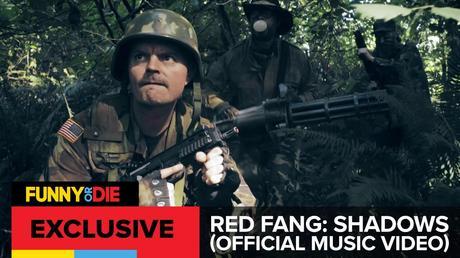 Watch "Shadows" at Funny Or Die HERE
Portland rockers RED FANG mess with the wrong comic book collectors in the band's new video for "Shadows," which debuted via Funny or Die this morning and can be viewed HERE.
"We had the pleasure of working with Whitey (McConnaughy) again on another music video," the band's singer/guitar player Bryan Giles commented of the Predator-like clip. "It was a crazy adventure through the woods in rural Oregon. It has stunt men, real firepower and some great explosions! We had a blast on this one."
The video is the sixth to pair RED FANG and director McConnaughy; the first clip from the partnership was 2010's "Prehistoric Dog", which saw the Portland-based band challenge a local role playing troupe only to suffer the consequences. The most recent video from the band & McConnaughy is the 2013 clip featuring Fred Armisen and a horde of beer-thirsty zombies in "Blood Like Cream".
RED FANG have been vocal about their transformative experience working with Robinson, with the band saying the sessions marked "a huge leap forward for us" and adding that they feel like "a better band for it." A series of in-studio videos are rolling out via Relapse Records' YouTube page, which can be viewed here.
Theband kick off an extensive fall tour on Sept. 26 with a month of European tour dates followed by another month of U.S. dates. Labelmates Torche will open on both runs with Whores joining the U.S. dates.
RED FANG Live:
October 21 Malmo, Sweden KB October 22 Munster, Germany Skater's Place October 23 Karlsruhe, Germany Substage October 24 Amsterdam, Netherlands Melkweg (OZ)
November 18 San Francisco, CA Slim's November 19 Pomona, CA Glasshouse November 20 Los Angeles, CA Teragram Ballroom November 22 San Diego, CA Casbah November 23 Phoenix, AZ Rebel Lounge November 25 Austin, TX Mohawk November 26 Dallas, TX Three Links November 27 Houston, TX Warehouse Studio November 29 Atlanta, GA Masquerade (Hell) November 30 Durham, NC Motorco December 1 Washington, DC Rock and Roll Hotel December 2 Philadelphia, PA Underground Arts December 3 Brooklyn, NY Music Hall of Williamsburg December 4 Boston, MA The Sinclair December 5 New York, NY Mercury Lounge December 7 Pittsburgh, PA Spirit Lounge December 8 Cleveland, OH Beachland Ballroom December 9 Detroit, MI El Club December 10 Chicago, IL Metro December 11 Bloomington, IL Castle Theater December 13 Denver, CO Bluebird Theater December 14 Salt Lake City, UT Urban Lounge December 15 Boise, ID Neurolux December 16 Seattle, WA Showbox
After three years of vigorously touring the world, RED FANG, the beer-loving Portland-based rock band whose new album was included in Rolling Stone's list most anticipated 2016 releases, re-emerge with their greatest and latest full-length album, Only Ghosts. Produced by the legendary Ross Robinson (At The Drive In, The Cure, Slipknot, and many more) and mixed by Joe Barresi (Queens of the Stone Age, Kyuss, Melvins), Only Ghosts consists of 10 new tracks of the band's signature, high-impact, hook-filled, hard rock. RED FANG prove once again they are top-notch songwriters who have mastered the heavy anthem without taking themselves too seriously. Only Ghosts is a rock album of incredible magnitude that demands to be played at maximum volume!
Only Ghosts is set for release this October 14 on CD/LP/Digital via Relapse Records. Physical pre-orders are available via Relapse.com here, and digital pre-orders can be found at the band's Bandcamp page at this location.
The debut single from the album, "Flies," can be heard now at this location.
Additionally, RED FANG's music and likeness are featured on Pabst Blue Ribbon's new pinball machine, the Can Crusher, which was unveiled at San Diego Comic-Con. The machine, developed in partnership with Stern Pinball, Inc., features a retro game design with art by Dirty Donny.