For January, there has been a lot of buzz for the new movies of the season. Two of those films have been in the action/adventure category and both have been inspired by true stories. First is "The Revenant", which is a story that was adapted from a fur trapper named Hugh Glass', who endured harsh conditions and events in the wilderness of Montana and South Dakota in 1823.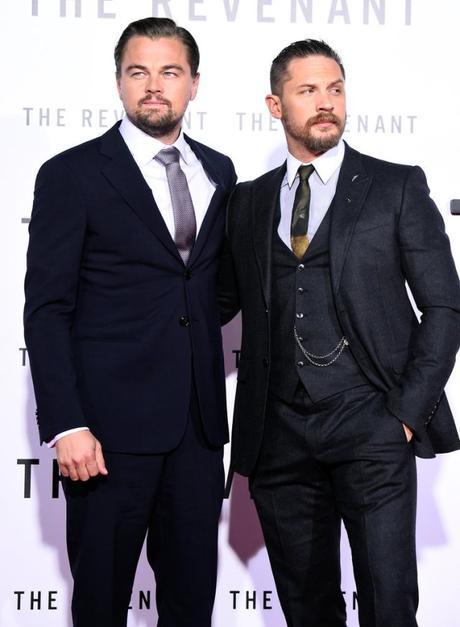 Since its initial release on December 25th 2015, the film and its actors have been collecting all kinds of awards and is one of the favorites, as we approach The Oscars. "The Revenant" leading men, Leonardo DiCaprio and Tom Hardy, have been seen at many red carpet events and are looking very GQ-esque while hanging out together in LA. Leonardo is dressed in a more traditional style with his deep navy two-button suit jacket, but spices it up with accents of a textured grey tie and a crisp white button-down. Tom Hardy chose to be a little more flashy and less conventional in his three-piece navy suit with a modern sheen, two-tone skinny tie that was complete with a chain link tie tack, and a lapel pin. Some three-piece suits look too prom-like, but Tom does it right with this one.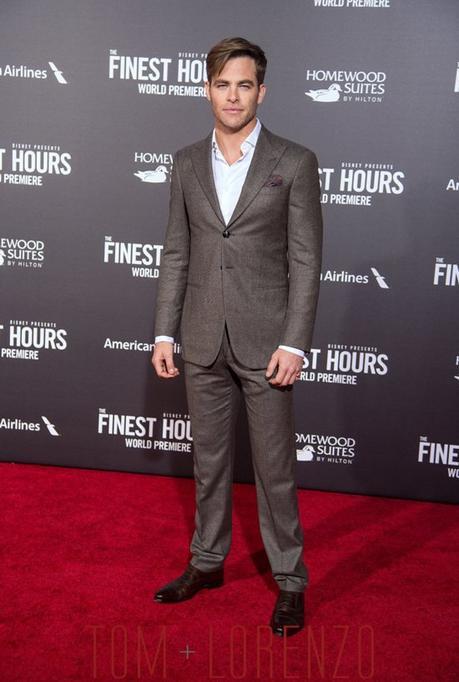 The other film that is soon to be released and also stems from true events is "The Finest Hours". A daring officer in the Chatham Massachusetts Coast Guard, Daniel Cluff, and his crew set out to rescue thirty sailors who are trapped inside the SS Pendleton, which was split in two by a huge storm in February 1952. Chris Pine is one of the lead characters and is shown here with mixed sartorial results on the red carpet at the world premier. He is dressed in a great taupe-grey colored suit, but there is just something wrong about the button placement in the jacket. They are set two high, making the lapels look short, which also makes his torso appear not long and lean. Chris leaves his look a little more on the casual side with his open collar, but it would have looked a little more put together with a tie that had some purple to coordinate with his pocket square.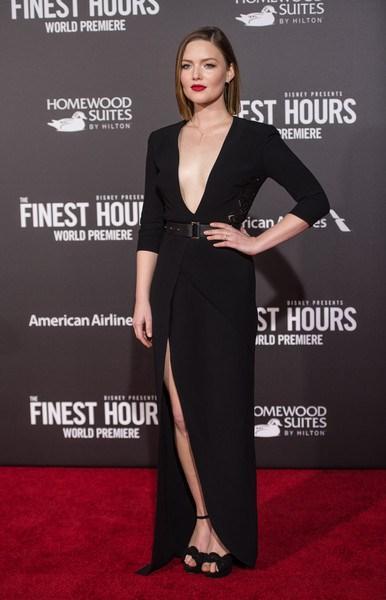 In contrast, his female co-star Holliday Grianger is an absolute stunner in her exquisite black Elie Saab gown that had an equally plunging neckline, as compared to the deep slit in the front. Holliday accessorized with a chic belt, platform sandals, ruby red lips, and I imagine lots of Hollywood Tape to keep things together!