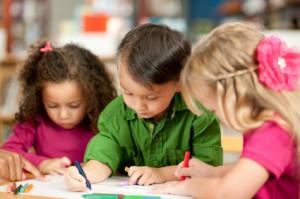 Are you constantly looking for ways to keep your little ones occupied, but also want to provide them with activities that also build confidence and boost creativity? Green Kid Crafts has developed a fun and earth-friendly craft service that will revolutionize the way you find activities for your kids and keep them busy with engaging projects.
When you sign up with Green Kid Crafts, you and your child will begin receiving monthly craft kits full of activities that boost creativity, build confidence and engage kids with nature. The Discovery Boxes are delivered right to your doorstep, full of fun.
Each monthly Discovery Box contains three fun and engaging activities related to a nature theme. The activities and products inside the box are all made from sustainable materials, teaching kids to be earth-conscious from a young age. Boxes also include coloring sheets, free games and a Discover More booklet that includes other activities geared around the specific Discovery Box theme.
Discovery Boxes fit into one of 5 categories, including Nature, Food Adventures, Around the World, Dinosaurs and Feathered Friends. Sample activities include collecting nature specimens, make bird feeders, creating African masks, making Japanese paper lanterns, growing organic herbs, creating a dinosaur tail and making bird puppets. A child's creativity and imagination can really run loose using these Discovery Boxes.
A panel of experts, teachers and parents work together to create the activities that are part of each Discovery Box. The projects are fun, open-ended and age appropriate. Each activity must meet the company's Happy and Healthy Child Commitment to support well-rounded development before being included into a kit. Each craft must also adhere to the company's Eco Ingredient criteria to ensure that the products included in the kit are good to the earth.
Perfect for boys and girls ages 3 to 8, Green Kid Crafts projects support development through art, science, imagination and active play. Green Kid Crafts help encourage the growth of the whole child. By engaging in the green crafts for children, kids create things they are proud of, develop motor skills, use reasoning and problem solving skills, discover the world around them, and care for other and the planet. The activities truly teach children to cultivate respect and love for the environment in a very hands-on and educational way. Discovery Boxes enrich a child's education and supplement education learned inside of a classroom.
To join and get started with Green Kid Crafts, you simply sign up for a membership with a monthly subscription. Starting at $19.50 per month with free shipping, you can have earth friendly creativity delivered right to your door. There are also Sibling Subscription discounts, and annual subscription discounts. A subscription to Green Kid Crafts also makes a great gift for a special child in your life.
Green Kid Crafts also produces specialty craft kits and larger party boxes. You can purchase craft kits from the long list of available products, and also purchase craft projects for birthday parties and other types of get togethers.