You can't help but fall for our new range of reclining rattan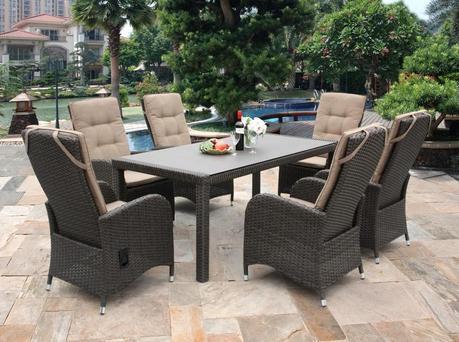 We have a brand new range of reclining rattan for you here at Gardencentreshopping, brand new for 2014, and all available for you to buy online today.
From sofa sets to dining tables and chairs, all in the beautiful, stylish dark gray coloured rattan weave. As with all of our other rattan furniture, the frames are made from aluminum, so they will not rust, not matter what the English weather throws at it. As well as that, the weave is UV stabilised, so the sun will not fade the colour, or make it brittle, so you furniture will look brand new for years to come, 100% all weather!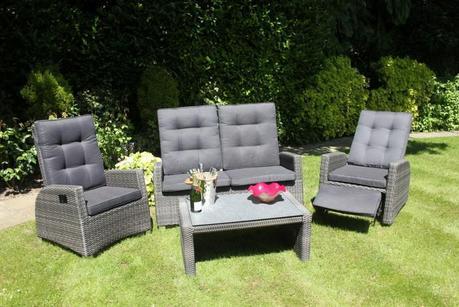 The coffee table on the above rattan lounge set opens out to double the size, giving you added space if you are catering for more people, perfect for nibbles or bottles of wine.
The lounge chairs themselves are powered by pressurised tubes, controlled by the small black catch just to the right of the arm rest, which allow for a steady reclining motion, that completely takes any mechanical motion out of the task, allowing you to slowly recline at your own leisure.
To checkout the full range of reclining rattan garden furniture that you can buy online checkout this link: http://www.gardencentreshopping.co.uk/buy/rattan-garden-furniture/reclining
An alternative to the Reclining Rattan Furniture, would be the Cozy Bay range, or alternatively, see our general rattan furniture section.