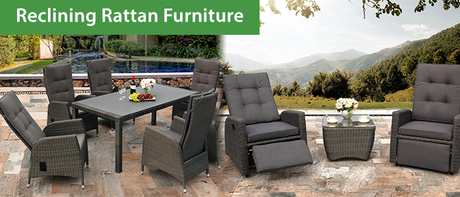 We have a brand new range of reclining rattan garden furniture for you here at Gardencentreshopping, updated for 2016, and all available for you to buy online today.
We have a fantastic range of reclining garden chairs to choose from, including all types of folding recliner chairs, reclining deck chairs, reclining outdoor chairs, perfect for the patio. If you are looking for a garden chair that reclines, and can be left outside all year round (weatherproof rattan), then please click here to buy online today (UK customers only).
What is the best reclining furniture set available?
This depends on your personal preference, but we can say that one of our best selling reclining furniture sets is the 2 seater rocking reclinig patio set, which is fantastic for a couple to spend quality time in the garden together. It comes with a small side table for resting drinks or a book on, and the chairs gradually rock and recline to give you the perfect comfortable sitting position.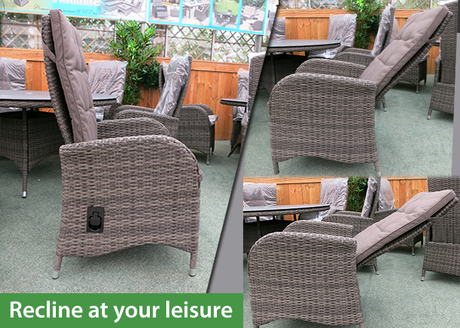 From sofa sets to dining tables and chairs, all in the beautiful, stylish dark grey coloured rattan weave. As with all of our other rattan furniture, the frames are made from aluminium, so they will not rust, not matter what the English weather throws at it. As well as that, the weave is UV stabilised, so the sun will not fade the colour, or make it brittle, so your furniture will look brand new for years to come, 100% all weather.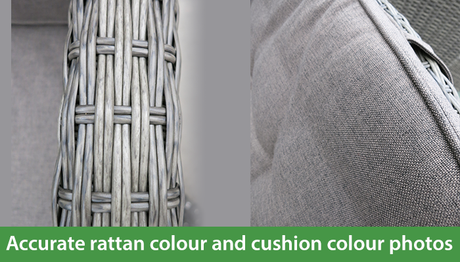 Reclining Rattan Dining Sets
Giving you that perfect relaxed dining experience. These dining sets come with high backed reclining arm chairs, which support your head perfectly, letting you drift off after a lovely meal in the sun. The hydraulic reclining mechanism located on the right hand side of the chairs, is easy to operate, and allows you to choose the perfect angle for you to relax.

Reclining Sofa and Bistro Sets
These reclining sofa sets come with extra thick cushions, making them one of the most comfortable sets that we provide. Available with rocking reclining arm chairs, as well as the chunky reclining arm chairs with foot stools. They are a great choice for the patio, and give you a comfortable place to relax into the early evening.

There are many benefits to reclining rattan furniture:

100% All Weather - You do not need a cover, and you can leave it out all year round.
Hydraulic Reclining Mechanism - No mechanical parts to go wrong, solid and reliable technology.
Cushions included - So you can relax in your garden in comfort.
The coffee table on the above rattan lounge set opens out to double the size, giving you added space if you are catering for more people, perfect for nibbles or bottles of wine.
The lounge chairs themselves are powered by pressurised tubes, controlled by the small black catch just to the right of the arm rest, which allow for a steady reclining motion, that completely takes any mechanical motion out of the task, allowing you to slowly recline at your own leisure.
Is rattan furniture better than wood?
This often comes down to personal choice, but we have found that the weatherproof rattan is far easier to maintain than wooden furniture, which requires you to constantly teak oil and sand the bench to keep it in a good looking condition.
Folding reclining chairs can be a good option if you have less space on your patio (often called reclining deck chairs). Reclining garden loungers can also be a fantastic option for those looking to relax for long periods outside.
Enjoy the UK summer this year, with our stylish range of reclining garden furniture, all available to purchase on our online store, at Gardencentreshopping.co.uk.
Alternatives to our range of reclining furniture:
An alternative to the Reclining Rattan Furniture, would be the Cozy Bay rattan range (our favourite is the Provence range), or alternatively, see our general rattan furniture section.
You could also checkout our range of round rattan dining sets here.