Many thanks to the Hairy Bikers, Comic Relief and HomeSense for sharing this recipe for blackberry victoria sponge cake. A classic cake which has been given a twist with spiced cream and blackberries. It's easy to make and tasty as well, so ideal for making and taking to work to share out or sell some to raise money for Comic Relief!
A printable version can be found underneath this long-form version. Happy baking!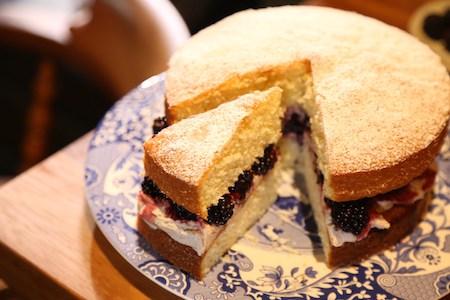 Victoria Sponge with Blackberries and Spiced Cream
For the sponge cakes:
225g butter, softened 225g caster sugar
4 eggs
225g self-raising flour 2 tbsp lemon juice
For the blackberries:
A punnet of blackberries
1 tbsp caster sugar
1 tbsp crème de mure (optional)
For the cream:
250ml double or whipping cream 2 tbsp icing sugar
1⁄2 tsp ground cardamom
1⁄4 tsp ground allspice
1⁄4 tsp ground cinnamon
1⁄4 tsp ground mace
Preheat the oven to 180C. Butter and line 2 x 20/21cm sandwich tins. Using a hand-held electric whisk or a stand mixer, cream the butter and sugar together until very light and fluffy - it should be almost mousse like. This should take a good 5 minutes. Add the eggs one at a time with a tablespoon of the flour, mixing lightly between each addition, then add the remaining flour. Add as much lemon juice as necessary to give a dropping consistency, then divide between 2 tins. Bake in the oven for between 20-25 minutes until the sponge has shrunk away from the sides slightly, is springy to touch and a very light golden brown. Leave to cool in the tins for at least 10 minutes, then turn out onto a cooling rack.
For the filling, put the blackberries in a bowl and sprinkle over the caster sugar and crème de mure if using. Leave to marinade for a short while - they will give out some juices.
Whip the cream then fold in the icing sugar and spices - the cream needs to be just beyond the soft peak stage - then pile this onto one of the sponges. Top with the blackberries and pour over any juices. Place the remaining sponge on top. Dust with icing sugar or caster sugar and serve.
Ingredients
Instructions
Come say hello




Hobbies: eating, sleeping and cat cuddling.