After a day indulging in chocolate and other Valentine's treats, perhaps you're looking for a dinner that is bright, lively, energizing, and 'clean'.
These 
Sesame Lime Soba Noodles
 are just what this vegan mama ordered!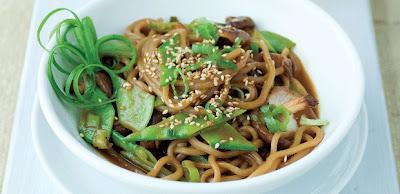 Sesame Lime Soba Noodles with Shiitake Mushrooms and Snow Peas (photo credit: alive magazine)
 (Well, I wish I
could
order them - today of all days... I'll spare you the mama details.)
Soba noodles
are made from buckwheat flour, but are sometimes combined with other flours like
kamut
, or wheat.  The noodles are tender and not gummy, and usually very digestible.  Here, they are tossed with a quick saute of
shiitake mushrooms
and
fresh snow
peas in a light,
Asian-inspired sauce
with a good dose of sprightly, fresh 
lime juice
.
It is an easy meal to prepare, will liven up your palate, and give you a boost - at a time of the year when we really need it.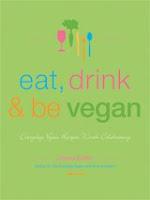 This recipe is from
eat, drink & be vegan
, but I have
just posted it for you
.  Enjoy!
Are YOU cooking anything special today to reinvigorate your body and senses?