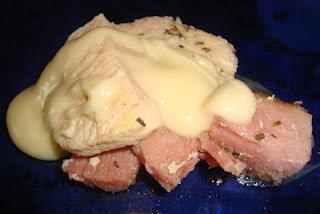 My goal for this dish was for something similar to Chicken Cordon Bleu in a skillet.  Although it didn't turn out quite the same, it's still quite good.
The smoked ham helps add a wonderful flavor to this dish, along with the rosemary and cheese fondue.
This entire recipe is flexible enough to alter to your taste preferences and for what you have available to you.
Ingredients:
(The quantity of meat in this recipe can easily be reduced.)
3 pounds of chicken breast (cut into pieces)
1 1/2 pounds smoked ham (cut into pieces)
1 - 2 tablespoons of rosemary
1/2 - 1 tablespoon of black pepper
1/2 - 1 tablespoon of red wine vinegar
1 yellow onion (cut)
4 green onions (cut)
1 package of Cheese Fondue (you can make your own too)
You can use leftovers to make this dish.  I had on-hand a 3 pound bag of frozen chicken breasts.  I also had on-hand a 1.65 pound package of smoked ham that was originally purchased for another dish that I never made.  For this recipe you will need a very large skillet to fit it all in!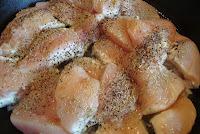 The ham in this recipe is already cooked, so start off with the chicken.  Thaw the chicken if it is frozen.  Cut the chicken in half two ways for smaller and thinner pieces.
Add the chicken, rosemary and pepper to your skillet.  Brown the chicken on both sides.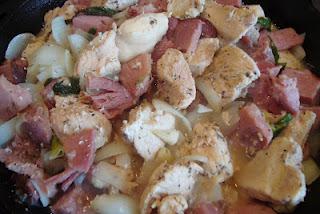 Next, add the ham pieces, red wine vinegar and onions.
Cover and simmer until the chicken is cooked all the way through.
Melt the cheese fondue according to the package's directions, or you can make your own from scratch.  I place mine in a small pan on the stove to melt.
I did not add the cheese fondue to the meat in the skillet.  Each person simply topped their own so they got the amount they wanted.  Cheese fondue has somewhat of a strong flavor for some people, so not everyone will want it on their chicken and ham. 
This dish was served with cream and honey biscuits and rice.  It would also be great with a crusty bread and couscous.