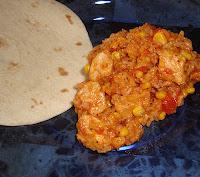 Arroz con Pollo (Rice with Chicken)
This is a Tex-Mex (Texas - Mexican) style dish.  As you may know, Mexican style food varies greatly throughout the United States.  This is a common meal in many homes and some restaurants in Texas.  You will find that there are some variations to this dish.
Serve with refried beans and tortillas. 
Ingredients:
4 boneless chicken breasts cut into pieces/chunks.
1 cup uncooked rice
2 cups of water
1 - 10 ounce can Rotel (diced tomatoes with chilies) - Do not drain.
1 - 8 ounce can tomato sauce
1 - 15.25 ounce can of corn - Do not drain
1 Tablespoon Cumin powder
1 Tablespoon Garlic powder
1/2 - 1 Tablespoon Onion powder
1/2 Tablespoon Chili powder (add more if you want it spicier).
2 Teaspoons Salt (or to taste)
Black pepper to taste
2 - 3 Tablespoons of oil
Optional Garnish: Chopped green onions, cilantro leaves, shredded cheddar and Monterrey jack cheese.
For this amount of ingredients you need a very large skillet.  You can easily adjust the quantity of ingredients to fit your needs and your cookware. 
Heat 2 - 3 Tablespoons of oil in skillet.
Brown the chicken in the skillet.
Slowly add all other ingredients.
Bring the mixture to a slow boil.  Stir occassionally.
Once your mixture reaches a boil, turn the heat to a very low setting, cover the skillet and let it simmer.
Simmer for 30 minutes or until the rice is soft and the chicken is cooked all the way.  Stir occassionally.
The mixture will thicken as it cooks.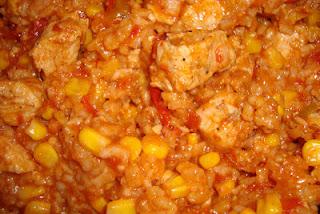 Up Close Picture of Arroz con Pollo