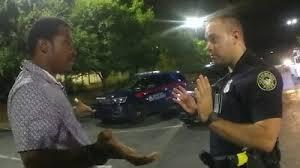 Rayshard Brooks and Atlanta cop Devin Brosnan
The Atlanta police officer who fatally
shot an unarmed black man Friday night at a Wendy's restaurant in Atlanta
could face 20 years in federal prison, based on legal precedent. The killing of Rayshard Books
sparked fiery protests in the city on Saturday night
, with the Wendy's being set on fire. (See video at the end of this post.)
Garrett Rolfe was one of two officers dispatched to the Wendy's on Friday night. What happened next? The
Atlanta Journal-Constitution (AJC)
describes it:
Friday night, police were called to the Wendy's on University Avenue to a report of a man asleep in his car and blocking the drive-through window. Officers confronted Brooks, 27, who authorities said failed a field sobriety test.
A struggle broke out as police officers attempted to arrest Brooks and he resisted. Video shows Brooks wrestled a Taser away from officers and fled.


Restaurant surveillance video released late Saturday by the GBI shows Brooks running away and then turn and appear to fire the Taser at the pursuing officers when he is shot.




The officer who shot and killed Brooks has been identified as Garrett Rolfe. He was fired Saturday and a second officer at the scene was placed on administrative duty.


The Georgia Bureau of Investigation and the Fulton County District Attorney's Office are conducting investigations into the incident.
The Brooks killing is similar, in a number of respects, to
the 2015 fatal shooting of Walter Scott
in North Charleston, SC. Officer Michael Slager conducted a traffic stop because Scott had a broken brake light on his vehicle.
Apparently concerned because he was behind on child-support payments
, Scott fled, only to have Slager pursue and shoot him five times in the back.
Slager pled guilty to criminal civil-rights charges and received a 20-year prison sentence, which the
UK Guardian
called "
unusually severe in a police shooting
." Here is more
from the Guardian report
:
A white former South Carolina police officer was sentenced to 20 years in prison by a federal judge on Thursday for the shooting death of an unarmed black motorist, an unusually severe sentence for a police shooting.


The judge had earlier ruled that Michael Slager, who shot and killed Walter Scott after a traffic stop in 2015, committed second-degree murder, paving the way for the sentence.




Slager had already pleaded guilty to the use of excessive force on Scott in May, but it fell to US district judge David Norton to determine if the shooting qualified as murder or manslaughter. The murder designation meant that Norton was working from sentencing guidelines recommending Slager spend 19 to 24 years in prison, and he sentenced the former officer to 20 years.
As in the Scott case, the Brooks incident started with a traffic issue; he was looking at a charge for drunk driving and only became uncooperative when police tried to put handcuffs on him. As in the Scott case, Brooks fled and was shot in the back.
Is it a cinch that Officer Rolfe will receive a sentence similar to the one that Slager received? No. In fact, we are a long way from knowing if federal prosecutors will even pursue a case against him; for now, state agencies are investigating the matter. But Brooks did engage in several aggravating actions that might wok in the officer's favor:
* After initially being cooperative, Brooks resisted when officers attempted to apply handcuffs and engaged in a scuffle with them, grabbing one of their tasers;
 * Surveillance video appears to show that, as he was fleeing, Brooks turned and fired the taser toward the officers. It's not clear if the taser was in range to harm anyone.
Rolfe likely will argue that he feared for his life. But it might be hard to make that argument fly in court. The standard for use of deadly force is well established. Here is how attorney Martin A. Schwartz describes it in
a recent New York Law Journal article
:
This Supreme Court's §1983 Fourth Amendment excessive force jurisprudence starts with the decision in Tennessee v. Garner, 471 U.S. 1 (1985) that police use of deadly force violates the Fourth Amendment prohibition against unreasonable seizures unless the suspect poses a threat of death or serious harm to the officer or others.
Brooks was running away from the officers, and
a taser is considered a non-lethal weapon
under Georgia case law, so it's hard to see how an argument that Brooks posed a threat of death or serious harm could prevail. Officers had his ID and car keys, so finding him later should not have been difficult.
Were the Atlanta cops concerned about Brooks' condition after the shooting? Apparently not,
reports the New York Post
:
The Atlanta cops involved in the deadly police shooting of Rayshard Brooks collected their shell casings rather than giving first aid — and waited more than two minutes before even checking his pulse, a lawyer for Brooks' family claims.

Witnesses said that "the officers went and put on plastic gloves and picked up their shell casings after they killed him — before rendering aid," attorney L. Chris Stewart said at a press conference Saturday, a day after Brooks was shot dead trying to avoid a drunk-driving arrest.

"They appear to be caring more about covering their tracks than providing aid," he said of the officers, Garrett Rolfe and Devin Brosnan.

"Aid that could have saved his life if allegedly he was taken to the hospital and died in surgery. But they didn't give that to him."