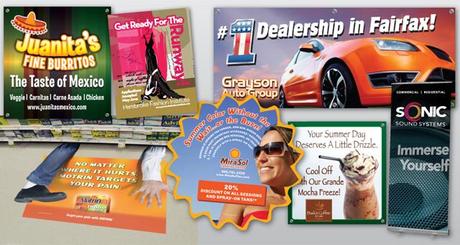 If you're the owner of a retail store, you've probably already invested in an identity sign for the front of your business. But don't let your marketing and advertising stop there. You need to get people into your store with more than just your name. Grab their attention and steer them into your business using your doors, windows and even the sidewalk to reel them in. There are a variety of new and affordable sign formats and materials available that can be easily updated and replaced based on your promotion and sale events.
Banners can be used in a variety of ways both inside and outside of your business, and cut to whatever size works best for your store.
Pop-up banners and flags, which typically come on a stand, are gaining popularity as a great way to call attention to a new product line or section of your store.
A-Frame signs used on sidewalks can promote sales, new products and menu specials for restaurants.
Window and wall decals can be custom cut into unique shapes and sizes and can be easily removed and replaced often.
Wall coverings/murals can span from one wall section to the entire circumference of your store! Don't paint—create graphics to inspire your customers to buy!
Floor decals aren't just for grocery stores. New substrates allow them to be placed onto carpeted areas too.
Point-of-Purchase/Counter displays can be created in a variety of dimensional formats to prompt customers to buy even more.
So, if you need more customers, as most business owners do, take another look at the inside and outside of your business and add more signs!