This is the weekend edition of TheMarioBlog and will be updated as needed. The next blog post is Monday, October 14
TAKEAWAY: It was an exciting time to be in Berlin for the WAN IFRA World Publishing Expo 2013, an event that attracted thousands of media people from more than 80 countries. Just as you would expect, it was the world of print rubbing shoulders with that of digital.
I was invited to do five presentations, in both the Tablet & App Summit, as well as the Newsroom Summit: Breaking Barriers.  In between, I moved around the Expo area, happy to see that, like in the newsrooms and elsewhere, the technologies of print and digital coexist, in this case in neighboring booths.
Reps from the print world were present at the giant—-and not so easy to navigate—Berlin Messe to show their printing presses and pre press operations, while their colleagues from digital solution firms appeared everywhere with a greeting from around giant screens eager to offer a demonstration of their "seamless" content solutions programs. 
You would turn right and see a facsimile of a rotary press, then walk a few steps and see dozens of young men and women explaining to a publisher or editor how their system can do a one stop solution to merge contents to various mobile platforms.
I saw several of these demonstrations, including one from the Norwegian firm, Ivy Engine, where their Layout Preview can actually look at the material the editor has input and "suggest" a layout. Incredibly exciting prospects.  This is the program used by VG+, the Norwegian daily and one of the best tablet editions for a newspaper.
I asked the company CEO, Jan Ove Kjøndal, how it was possible that his software could make a layout suggestion, to which he responded with a smile:
"That is one of the secrets."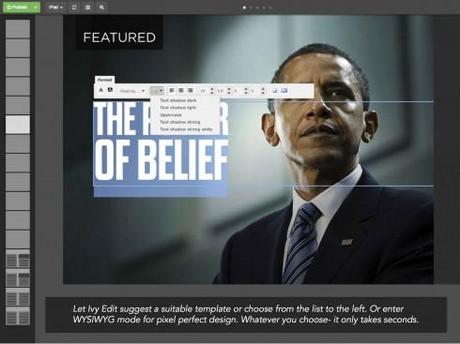 Here is a sample screen from the Ivy Engine software: see templates on left side of the screen
No secrets about what's important in the newsroom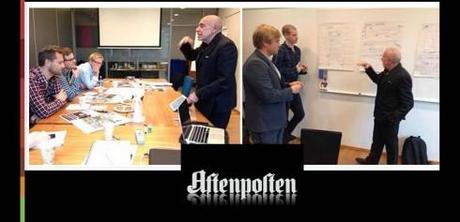 Recent workshops at Aftenposten in Norway: discussing multimedia storytelling
Meanwhile, in the seminar rooms, nothing secret about what was important and the mind of most participants: echoes of the industry's highs and lows, with optimism prevailing, but with all speakers emphasizing that THE STORY is still what is important.
A takeaway from the conference: Journalism's prospects look good, despite financial pressure on traditional newsrooms. A generation of young, digitally minded journalists are bringing a creative and can-do attitude to professional challenges. Newsrooms globally are investing in training to bring new levels of excellence to core digital storytelling. 
As one veteran of WAN IFRA events told me during lunch:
I have never been to a program that was so digitally oriented as this one. This is an industry that knows what the priorities are, and, finally, there is training about them.
How do you train people in the newsroom to think in terms of digital?
Perhaps one of the most timely topics, and the one where the audience stood in complete attention: the training of journalists to become storytellers across platforms.
That was, in fact, a theme in my five presentations, and the one that evoked the most responses during and after the program.
It's easier to acquire the new technologies than to change the mindsets of traditional journalists in the newsroom, but it's definitely something that can be accomplished.
I offered some tips based on experience:
Take it easy: Don't be too ambitious at the beginning.
Write for a mobile device first: This will prompt thoughts of audio, video, interactivity. In fact, this is not just a suggestion to move newsrooms towards a more digitally minded operation, it is becoming a mandate.  This week, the Financial Times announced that it plans to stop printing regional editions and produce only a single global daily newspaper. In a memo to his staff, editor Lionel Barber has asked that reporters are to put increasing emphasis on writing for the news organizations' web site.
Here is what Barber wrote to his staff:
"Journalists will publish stories to meet peak viewing times on the Web rather than old print deadlines. This will require a change in mind-set for editors and reporters, but it is absolutely the right way forward in the digital age."
This is the beginning of what I see as writing/designing for digital first as not just a suggestion, but a mandate.
—Take baby steps: if the story can have one component, such as audio, that is a start. Take pride when it happens, and reward the journalists doing it.
—Train all journalists: It is best to train all journalists to become multi media storytellers, but NOT all will want to do it, so concentrate on those who are willing to join the program.
—Learn as you go: Our audience does not expect perfect audio nor perfect video, but they want these additions to the storytelling process. So, at the beginning, impress upon your journalists that they do not have to produce a Hollywood-ready rendition of a video.
Of related interest:
Newspaper to cut print editions in digital play
http://www.nytimes.com/2013/10/10/business/media/financial-times-to-consolidate-print-editions.html?_r=0
Media thinker icon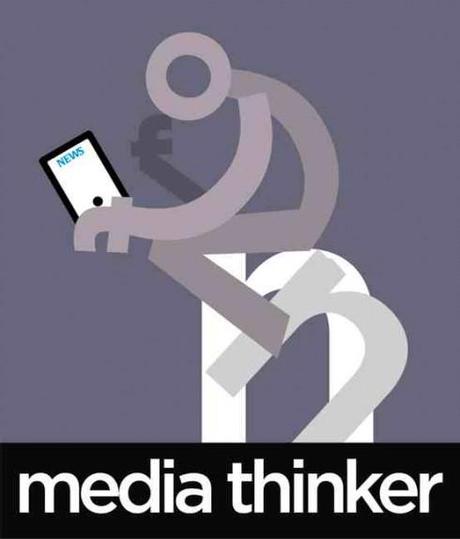 A few days ago I declared in this blog that I was no longer referring to "newspaper business" when describing what I do. Instead, I had decided to call myself a media thinker, which always seemed to evoke a better reaction from people.
My friend Massimo Gentile, the talented design director at Il Secolo XIX, of Genoa, Italy—-who has a passion for typographic illustrations——has just sent me this clever image that I will be very happy to use in my presentations.
Thanks, Massimo.
TheMarioBlog post #1354