Commentary on and Review of Black Panther
By MILTON ALLIMADI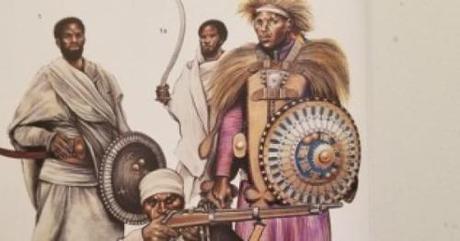 Ethiopian soldiers in the 19th century. Source: "Armies of the Adowa Campaign of 1896" by Sean McLachlan
I have major beef with Black Panther but I start my political economy review on a positive note.
As a Pan-African I love the possibilities for mutually beneficial constructive cooperation between Africans on the motherland and Diaspora Africans suggested in Black Panther the movie. It comes towards the very end when T'Challa (Chadwick Boseman) travels with his sister (Letitia Wright) from Wakanda to Oakland, California, and tells her of his plans to invest in the Black community.
He had been thinking of the passion and anger that drove Erik Killmonger (Michael B. Jordan), who is no villain at all; Killmonger raged about his "abandonment" in America but he meant it in a very bigger way. If Africa could realize its power sisters and brothers wouldn't be victims of police brutality and mass incarceration here and poverty in Africa. It's not coincidental that in Hollywood in order for a character to be permitted to speak Truth To Power he or she must appear as an evil person.
I've always believed that joint projects between the motherland and Diaspora– are the keys to Pan-African empowerment. Can you imagine Africa's tremendous resources –its 1.2 billion people, its hundreds of trillions of dollars worth of mineral and natural resources, and its possession of two-thirds of the world's untapped fertile agricultural land– leveraged with the $1 trillion in Black annual purchasing power in the United States?
The Global African world would be second to none. That is the vision that Killmonger had for Africa's Wakandas.
In our real world, embezzlement of vast fortunes in public funds has stunted development in Africa. Widespread rape of Africa's resources by multinationals also continues to create Western billionaires. What if instead of being siphoned off to Swiss banks through the decades the $5 billion stolen by Congo's Mobutu and the nearly $4 billion by Nigeria's Sani Abacha had been invested in Black-owned banks and businesses and institutions in the United States? This is the question Killmonger –in the real world– would pose.
Black Panther not only suggests Pan-African cooperation, it practices it in the real world. The mega-budget production which cost $200 million to make –and has already grossed $427 million– has a predominantly Black cast that brings together Diaspora African and African actors and actresses. From here, they include Boseman, Wright, Jordan, Forest Whitaker, Angela Bassett, Daniel Kaluuya, and Winstone Duke, and others; from Africa, Lupita Nyong'o, Danai Gurira, and Florence Kasumba, and others.
Might this Black Panther template not be used for other collaborative enterprises –in business, science, education, politics and other artistic endeavors? This would make Killmonger smile.
Read more
Advertisements
&b; &b;