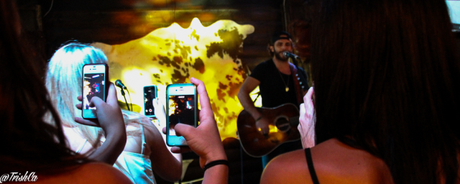 Wednesday night a crew of Toronto country music fans were given a special treat when Thomas Rhett played an intimate acoustic set at the Rock N' Horse Saloon in the Entertainment District.
In town to play with Miranda Lambert at the Molson Canadian Amphitheatre, country radio stations KX96 and KX94.7 brought in winners to see the show and give fans a chance to see Thomas Rhett up close and personal. And that they did. We may have been 15 feet from the dude as he stood and swayed and sang his 10 song set.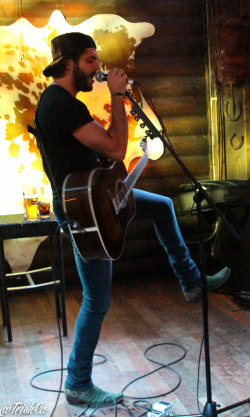 First thing's first, I've been listening to country music for a couple decades and have been familiar with Rhett Akins (Thomas' dad) since 1995 – and now almost 20 years later I'm becoming a fan of what his son is bringing to country radio on a regular basis. That's a pretty cool thing.
And make no doubt, Thomas Rhett deserves to be where he is. Forget his songwriting ability and voice – this 24 year old Georgia boy is all kinds of charming and has stage presence that is going to take him to big places. Add in the songs and the voice and young Thomas looks like a star.
Note: Congratulations are in order as Thomas Rhett was nominated for New Artist of the Year by the Country Music Association on Wednesday morning.
The set opened with the announcement that there wasn't really a set list and that invited the audience to start yelling out requests (from start to finish) that included that the first song of the night, and first of his career, Something To Do With My Hands. From there things moved quickly with Round Here, written by Thomas Rhett and released by Florida Georgia Line, Thomas Rhett's newest single, You Make Me Wanna, and Parking Lot Party which was a huge hit for Lee Brice and again written by Thomas Rhett.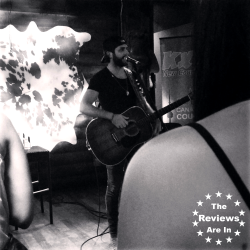 The next track was probably the one that I wanted to hear most (other than a very unlikely cover of his dad's That Ain't My Truck) – Get Me Some Of That. Check the bottom of the post for the video and get a sense of the singalong atmosphere we were in all night.
Next up was a brand new track, not yet recorded, called Real Men Love Jesus. It's a slow, calm, song that should land on his next album. He followed it up with crowd-pleasers Front Porch Junkie and It Goes Like This before waving goodbye.
But in that small space, lined with fans and looking for more, the ENCORE chant came quick and loud. So Thomas Rhett came back to sing his own Take You Home and the first song he ever got released by another artist, Jason Aldean's top 20 hit, 1994.
It was a nice mid-week break to catch the short show at the Rock N' Horse – and I'm confident that everyone who sees Thomas Rhett on stage opening for Miranda Lambert on the rest of this tour are going to enjoy the show.
Keep an eye on this guy, he's going all the way to the top.
Check out more pics from the show at Trish's blog HERE.
Stay awesome!