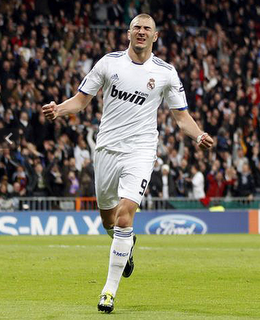 A strange look on Benzema's face after scoring
against his former club, Olympique Lyonnais
The curse is finally broken for Real Madrid, it had been seven years in which the club was unable to proceed to the quarter-finals of the Champions League. If there was a man who would've broken the curse for Real, it was going to be Jose Mourinho. He ended Inter's nearly 50 year Champions League trophy drought last season, and now he looks ready to win the European competition with Real Madrid this season.
While Jose Mourinho's presence on the Madrid bench was important, there was work on the field for the players. While Real Madrid enjoyed possession in their home stadium, Lyon were always ready to spring from their rigid defence to a surprise counter-attack. While there was an apprehensive feeling in the Bernabeu, when Marcelo combined with Ronaldo and then finished past Lloris, a large weight was lifted off of the Real players's shoulders. A goal up in the 37th minute and the tie in their hands, Real Madrid could be a little more relaxed in their play for the rest of the first half.
The second half saw Lyon begin to commit more men forward in attempt to score. Yet this opened the French side up wonderfully for Real Madrid to counter-attack and exploit space on the break. Real's second came in the 66th minute, when Marcelo pinged a long ball through the sleeping Lyon defence, allowing Benzema to gather and coolly finish through Lloris's legs. And from that goal came the third just ten minutes later. Another counter-attack with Ozil flicking a header through for Di Maria to speed past the Lyon defence (yet again caught asleep) and dink the ball into the goal.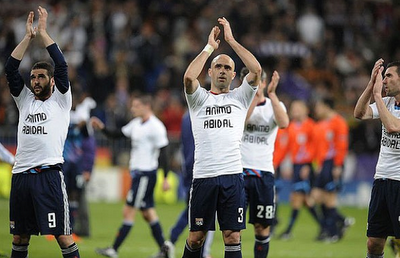 At the end of the match both teams showed their support for Barcelona
player Eric Abidal who was recently diagnosed with a liver tumour
After having scored the first goal, Real Madrid merely let Lyon destroy themselves as the French team pushed too far forward in an attempt to score. What followed was classic Mourinho counter-attacking, earning Real Madrid a place in the quarter-finals.