Even Real Madrid fans are as surprised as everyone else about, why Florentino Pérez seems hellbent on emptying the club's bank account for Gareth Bale.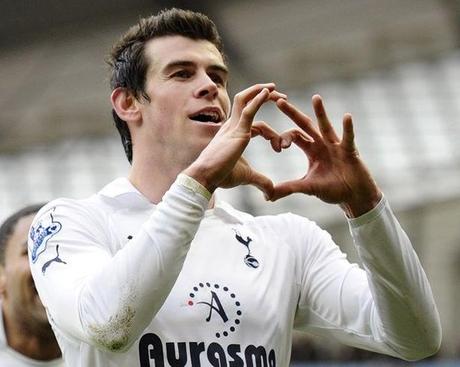 Bale : Is he worth 100 million??
Figures of up to €110m are being chucked about in the pages of AS and Marca as per Bale's transfer fee, a significant amount higher than the sum paid for Cristiano Ronaldo in 2009. While the Welshman is no slouch on the football field, only about two players in the world these days are worth that kind of money. One of them already plays for Real Madrid.
The papers' polls suggest that everyone else thinks Florentino is out of his mind to part with such a huge amount of money. In a Marca survey, 86.3% said that the club shouldn't pay more than €100m. Just over half the 108,000 respondents to AS said that Bale is worth between €60m and €70m.
Whilst Pérez can't resist an ego-stroking, Galactico big splurge every now and again – and to be fair, the last whopper was some four years ago – the pursuit of Bale seems to be a direct response to the arrival of a certain Brazilian at the Camp Nou.
"I think Bale will come because Florentino needs to get revenge for the big move of Neymar," writes AS editor Alfredo Relaño, "and because his model consists of continuously loading up the plate with attractive signings."
It's not like that Madrid fans don't want Bale.. They do want him and were chanting his names during the presentation ceremony of Asier Illarramendi... They do want him but the transfer fees is way too over the hill even for Madrid fans.
 As i have already pointed in an earlier article : Real Madrid doesn't need Bale to be competitive..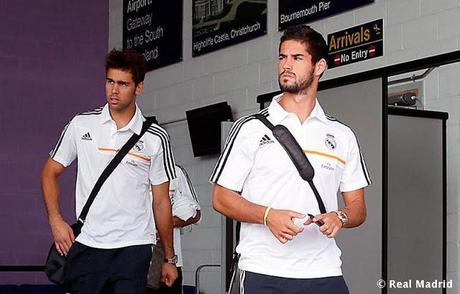 Madrid have signed young spanish players including Isco
After all, it's not as if Real Madrid fans are unhappy at the summer transfer dealings so far. For once, they've bought Spanish talent: Dani Carvajal, Asier Illarramendi and Isco.
The squad is already competitive, with plenty of options in particular up front. The chances are that Isco, Mesut Özil, Angel di María and Kaká are already going to be scrapping for two spots, so the pursuit of the Spurs player seems to be Perez's little obsession..
Isco enjoyed two fruitful seasons with Malaga, where he made his name as a versatile attacking midfielder — quick yet able to spot a pass — not unlike another from the Valencia youth setup, David Silva.
Illarramendi has been spoken of as a long-term replacement for the peerless 31-year-old Xabi Alonso. Although deployed more defensively at Real Sociedad, he — from the Basque country like Alonso — has the passing range that perhaps someone like Sami Khedira doesn't. At any rate, Madrid saw enough in Illarramendi to trigger his buy-out clause and make him the club's most expensive Spanish name.
Carvajal, for his part, was sold to Bayer Leverkusen last season — where he excelled as an attacking right-back — before being purchased again through a buy-back option. He may be expected to replace the unconvincing Alvaro Arbeloa at once.   But Madrid being Madrid, no summer can be deemed satisfactory without a major signing for the club president — now Florentino Perez — to parade before supporters. Hence the raging desire to sign Bale, although how he will be accommodated is uncertain.
However, it will not unsettle Carlo Ancelotti. He has put up with the whims of owners like Roman Abramovich and Silvio Berlusconi, and delivered trophies at both clubs.
But who is the biggest loser in the deal? The mass of Real Madrid club members, who technically own the institution. Although Florentino Pérez will be looking for some reflected glory in the Bale deal, the only reason he can potentially pay up to €100m for the Spurs man is that it's not his own money in play. That makes negotiating considerably easier. Bale will also suffer because of this humungous transfer fee that will overshadow his talent and put immense pressure on his shoulders to justify this price tag..
If the transfer takes place and ends up a success, the Madrid president will look very good indeed and it can only benefit Real Madrid in footballing terms. However, any problems and there could be serious dissent in the Madrid masses. After all, they know like everyone else that the capital city side could be hugely overpaying for a footballer that the team does not really need. 
Last season, the league was as good as over by Christmas, Madrid eventually finishing 15 points behind Barcelona. Ancelotti will be expected to right that, to say nothing of the Champions League, where a wonderful Borussia Dortmund side chastened it in the semifinals.
Barcelona will also embark on its season under an untested manager, but has undeniably strengthened over the summer.
Both Real Madrid and Tottenham must make a decision on this deal as soon as possible so if he does come to Madrid, then he can start training with the team as soon as possible and Tottenham can replace him with some good player... We have already seen what happened with Modric last year.. He suffered from lack of preseason with the team and his performance was nothing to talk about in his first 2-3 months at the club..Madrid can't afford it this time around, that too at a position as important as Bale is going to play for the team..

Over to you friends.. Is 100 million a fair price for Bale??