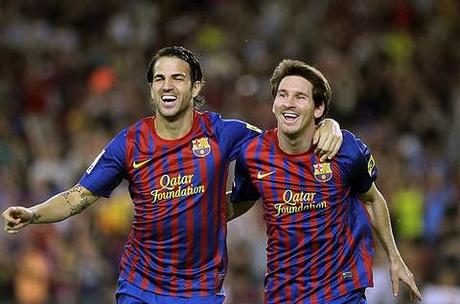 Barcelona attacking players Cesc Fabregas (l) and Lionel Messi (r). Photo credit: Globovision

When Barcelona play Real Madrid its safe to say no self-respecting football fan is anywhere other than on the sofa with a beer in one hand and the TV controller in the other. That's because El Clasico represents not only the clash of Spanish football's two most successful clubs. It's also the most keenly contested football derby on the planet.
The fact that recent meetings between the two historied clubs have been lit up by sensational goals, thumping tackles and mass brawls meant Saturday's El Clasico was particularly eagerly anticipated. And it did not disappoint; despite falling a goal behind after just 23 seconds away from home, Barcelona bounced back to triumph 3-1 on the night. The comeback, which displayed Barcelona's elegant and gritty sides, delighted the football commentariat. It also made the Spanish league much more exciting as, prior to Saturday's clash, Real Madrid had been threatening to run away with the league. Not so anymore.
Real Madrid went in to El Clasico having won 15 games in a row and having not been beaten after having taken the lead in almost 90 games.
The pass is Barcelona's identity. Sid Lowe at The Guardian's Sport Blog analysed the statistics and insisted that the key to Barcelona's brilliance was and is their awesome passing ability: "Barcelona completed 681 passes to Madrid's 427. People say: ah, but how many of those passes are relevant? The answer is: all of them. The pass is Barcelona's identity; it is through possession that they feel comfortable and it is through possession that they do everything – from creating chances to preventing them, from speeding up the game to slowing it down. Even time wasting, even resting, happens with the ball. Possession is aesthetic but also anaesthetic."
"Our philosophy is to be courageous", boasted Barcelona's Xavi Hernández.
Lionel Messi is on a (footballing) planet all of his own. James Lawton of The Independent argued that "although the gap is closing between Spain's big two, Barça's genius puts team ethic first, a trait still lacking in Real man." Turning to the two superstars on show, Lawton said "Messi ultimately ridiculed the idea that he and Cristiano Ronaldo are now operating on roughly the same level. In the matter of scoring goals this is no doubt true but if we are talking about an absolute commitment to serving the team, to inflicting oneself on all aspects of its effort, we are not so much talking apples and oranges as grown-up genius and adolescent self-indulgence."
Real Madrid talisman Cristiano Ronaldo came into the game having racked up 18 goals in 20 games. But he missed two golden opportunities to score against Barcelona and generally failed to light up football's biggest stage.
The golden trident of Messi, Xavi and Andrés Iniesta. Paul Hayward of The Daily Telegraph  exceeded even Lawton's extreme admiration for Messi: "For anyone under 30 most football deities are old television footage: Puskas, Di Stefano, Pele, Best and Cruyff. Only with Diego Maradona does greatness shade into today's world and from there Zinedine Zidane and the original (Brazilian) Ronaldo are its most eminent representatives. Then along comes Lionel Messi, the low-slung, iron-shinned, soft-footed darting genius who shines brightest in the hardest games of all." In 16 Clasicos Messi is credited with involvement in 21 goals (13 scored, and eight assists) pointed out Hayward, who purred, "Messi's luminous ability to run with the ball at such improbable speed and to wreck a defence with a pass from the trequartista position is thrilling to the soul … Watch him, every time you can." But Hayward insisted are way more than a one-man team. He lavished praise on the "golden trident of Messi, Xavi and Andrés Iniesta: surely the greatest attacking midfield combination of modern times. If you drew up a Fifa Ballon d'Or shortlist on Clasicos alone, Messi, Iniesta and Xavi would always be 1-2-3."