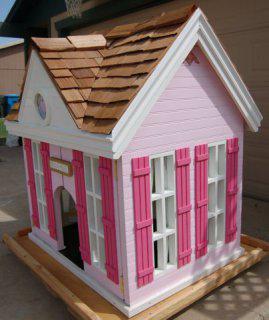 Jwoww's Palacial Palace Indoor Dog House: design by Rockstar Puppy, featured in NY Times, 6.27.12 Last week The New York Times ran a piece about dog houses - or better, dog mansions - that indicate that the real estate market is coming back to life again.  I mean if people can afford to pay $12,000 or more for a dog house, it must bode well for the entire market, am I wrong?  The thing is, however, the Times claims that dogs don't really care about having a fancy house, and so I figured, if they don't care what the house looks like, why not provide something they do care about....

A place to call their own.  Shade from the sun. Shelter from the weather elements. Coolness or warmth, depending on the season.  Some water would be nice.  Maybe a few bones and some toys....

Upon doing a little research, I found a few less pricey and more functional dog houses that can still hold their own in design circles.

Here, for example, are three upscale dog residences, in ascending sizes, that a dog might go for....

 
1. Cape Cod Cozy Cottage Kennel Dog House
Originally listed at $6999, realtors for the Cape Cod Cozy Cottage Kennel Dog House discovered that dogs would not pay per word for its title, and are now accepting bids for $4499.98 and above in Cedar, Redwood, and Weathered Wood.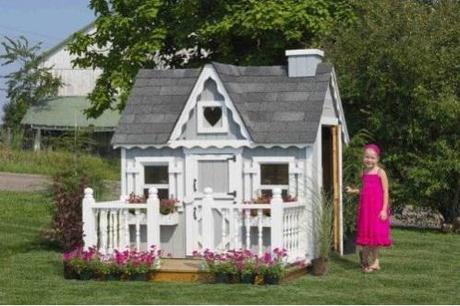 Cape Cod Cozy Cottage Kennel Dog House: by Little Cottage


No, that's not a dog going into the house, but a young girl, and as the door opening is 61" high, the image lets you know that the house will accommodate a girl and her dog. Seriously, space is used well, here; the front part of the house holds an indoor dog kennel, and the back porch is enclosed as a dog pen. Between them is a doggy door so Buddy can go in and out.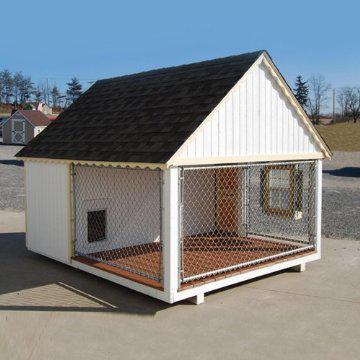 Cape Cod Cozy Cottage Kennel Dog House: by Little Cottage

 

The windows are real, too. Made of safety glass, they even have screens. And there's weatherproof siding on the house.  There's much more to learn about this 1,500+ pound Cape Cod Cozy Cottage Kennel Dog House.  And you can learn about it here, at Amazon.com.

 
3.  Canine Castle Windsor Kennel
For a more modest system and price, only about $1600, you can have "The Windsor" 10 x 10 x 5 foot Castle, made of decorative aluminum with a Sunbrella canopy.  This model has an Easy-Move wheel system in case your dog wants to move his house around the yard from time to time. 
Here is a partially-furnished Windsor Kennel model, certainly not the way the Queen would have it.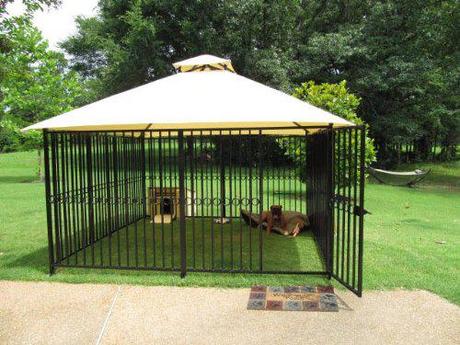 Canine Castle Windsor Kennel
Here is a close up of the iron, oh no, aluminum work: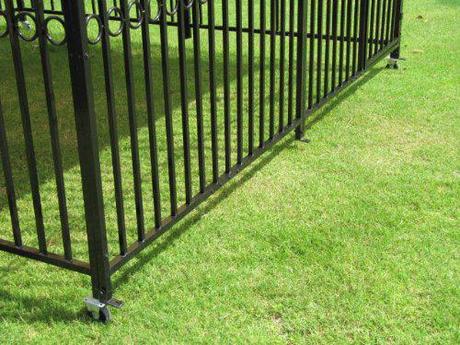 Canine Castle Windsor Kennel closeup

Attractive, no?  Shop the Canine Castle Windsor Kennel at Amazon.com.
3..  Canine Castle Luxury Dog Kennel
You may know the 'double Windsor' as a knot for your neck tie. But here is a double Windsor that's a remarkably impressive castle for your dog, or dogs. Unlike most of the high end real estate on the market for dogs, the Canine Castle Luxury Dog Kennel offers an array of setups, and additional add-ons, such as an enclosed dog house and canopy heaters - great for winter.  But, as displayed, this 300 square foot Luxury Dog Kennel is set up for summer....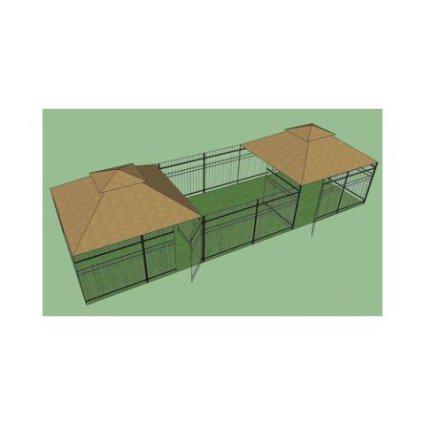 Canine Castle Luxury Dog Kennel: by Great Outdogs
What's special, besides the size, is that the Sunbrella pagoda roofs host a sprinkler system which emits a light mist to keep your dogs refreshed in warmer weather. And unlike most outdoor dog kennels, this one is chic-designed in decorative aluminum, lightweight and durable as well as Asian-accented. There's plenty of space for a few dogs here too!
Find the Canine Castle Luxury Kennel System for just a tad over $4000 at Amazon.com.
 
That's the buzz for today!