Today's post is about two stylish products that made my girls happy! I received Hango's lunch bags and Francois et Mimi's water bottles to review. First, let me share a picture of how cute these products are followed by my review.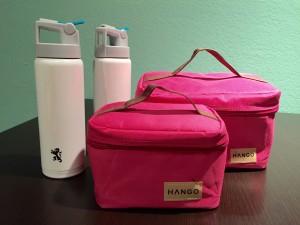 As you know, we are vegetarians, and I cook a lot. There is always leftovers that can be easily packed for lunch. And, it is always not easy to find enough portions of vegetarian meals at cafeterias. With that said, the stylish looking Hango's pink lunch bags are being throughly tested by my daughters. For testing purposes, I left hot and cold food in there at two different times - cold stayed cold for about 5 hours and hot food stayed warm for about 4.5 hours. I noticed that the thermal insulation is quite dense and the exterior is made with a good quality material. The zipper is made of stainless steel, and feels sturdy. I don't see this falling off and it zips up completely to secure insulation.
Large bag measures 6L x 6H x 10W inches and will hold decent sized lunch, a size that can fit in a six pack of your favorite soft drink. Small bag measures 5L x 5H x 7.5W inches, and will fit in fruits, yogurts and snacks. Both these bags fold up inside themselves for easy storage. Small bag initially seemed too small for me, but it is perfect to carry a fruit and a yogurt.
Next, the water bottles - my most favorite feature is these are lighter than I expected. When I read "Double Wall Vacuum Insulated Stainless Steel" I assumed that it will be heavy, well that's really not the case. This water bottle offers a ton of other features - BPA free, unbreakable, leak-proof with a flip-top lid, soft rubber mouthpiece, and a easy to carry handle grip. I tossed this into my bag, and to my surprise my cold beverage did not leak. The vacuum seal in the bottle keeps the liquids in there unless sucked from the straw top. BTW, my beverage stayed cold for several hours. Each bottle holds 20 ounces, a size that is not too big nor too small. This is my second Francois et Mimi's product, and I'm totally impressed with the style and quality of their products.
Overall, I'm impressed with both these products. The insulated lunch bag and water bottle are perfect to take to school or to work!

Disclaimer: I received one or more of the products mentioned above for free usingTomoson.com. Regardless, I only recommend products or services I use personally and believe will be good for my readers.