Anthony's Restaurant Rating:
90/100 X
Welcoming:10/10 Menu Choices: 9/10 Food Presentation: 8/10
Food Temperature: 9/10 Food Taste: 17/20 Service: 9/10
Ambiance/Music: 10/10 Architecture/Interior: 9/10 Air Quality: 9/10
Total: 90/100

More about:
Shake Shack
Shake Shack's New York's famous burger place has finally opened in Beirut earlier this month at the Beirut City Centre. Shake Shack is a restaurant chain serving hamburgers, hot dogs, French fries, milkshakes and frozen custard. The chain currently has twenty restaurants in the United States, eight of them in New York City. Additionally, there are currently nine international locations of which Beirut is the latest.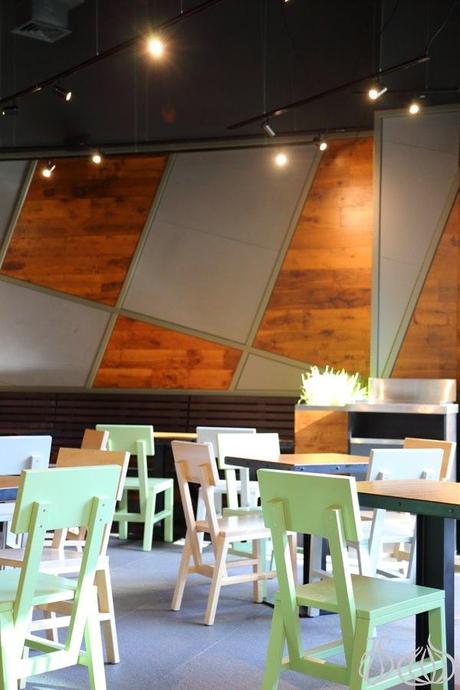 Leaving everything behind on this busy Wednesday, I decided to go down to Beirut for a special review of Shake Shack that I honestly enjoyed. Every aspect of it was interesting and I couldn't wait to come share it with you.
Reach Beirut City Centre in Hazmieh and head straight up to the last floor where Shake Shack is located on an open terrace. You can enjoy the best of both worlds, an outdoor seating where you can still enjoy the last days of summer as well as inner air-conditioned well lit seating area for those who prefer the indoors.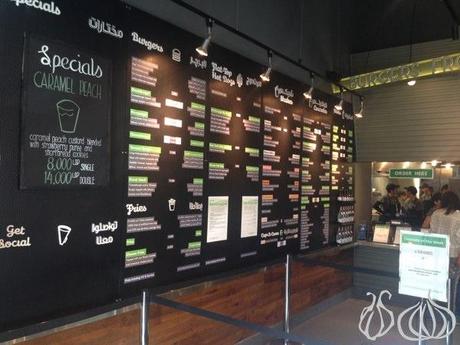 The happy and joyful vibes you often see at a typical American joint in the movies was something I experienced for real today, as I was welcomed by a smiling and joyous hostess, who obviously seems proud to be a Shake Shack employee, just like all the other 25 active youngsters moving around in a synchronised way.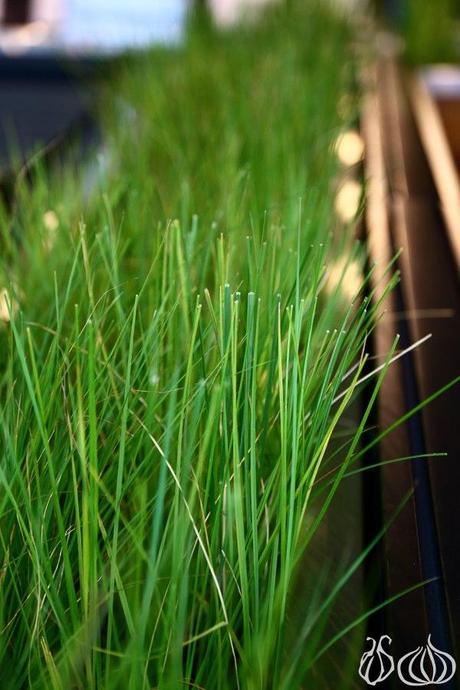 The place described:
After being welcomed by hostess that knows the menu by heart, we continued to the cashier. Two girls, happy, smiling and welcoming helped us with the order. I decided to try a bit of everything or to be more precise and choose the signature items.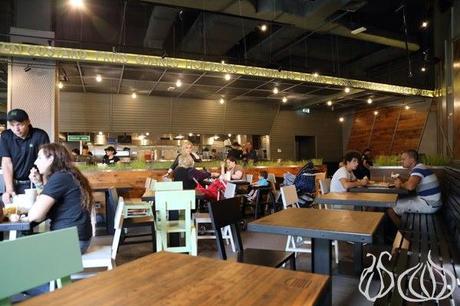 We had for lunch:
Shack Burger: Double Cheeseburger topped with lettuce, tomato and Shack Sauce. 770 calories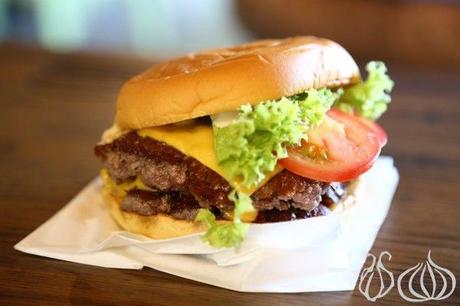 Double Shack Stack: Cheeseburger and a Shroom Burger (Crisp-fried Portobello mushroom filled with melted muenster and cheddar cheeses, topped with lettuce, tomato and Shack Sauce) 995 calories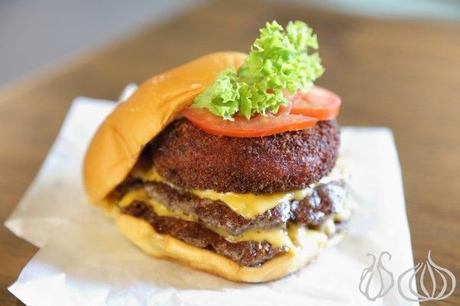 Cheese Fries: Topped with special blend of cheddar and American cheese sauce 685 calories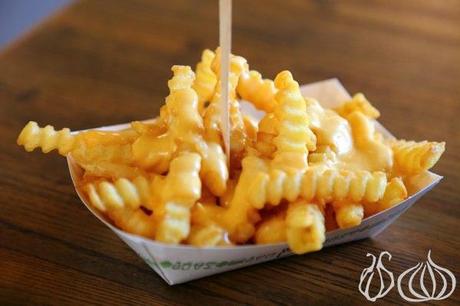 Concrete Centre Piece: Chocolate custard, peanut butter sauce, fresh banana and shortbread cookie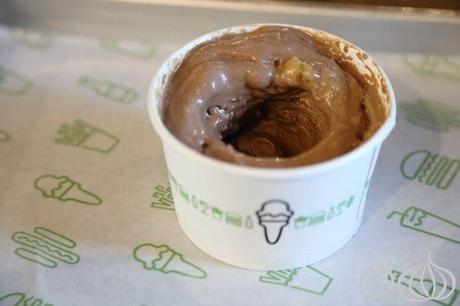 Concrete Beirut Blend: Vanilla custard, strawberry puree and pistachio backlava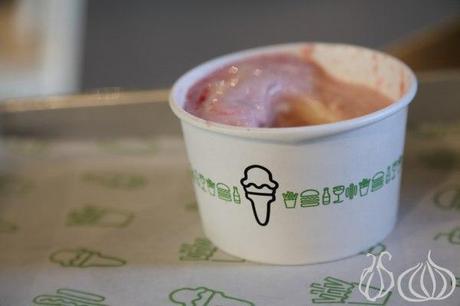 Waiting for the order, we were given a buzzer. A buzzer vibrates and flashes in red as soon as the order was ready. That's a premiere in Lebanon. Not more than five minutes after taking the order, the meal was already ready.
Reminder before you start:
This is not a cheap fast food burger
It is not a gourmet burger as well
Remember that you are tasting a fine American New Yorker burger
Fat is part of the game
The Portrait of a Shake Shack Burger:
The Bun: Martin's potato roll, toasted in butter. The bun is to die for. Soft and tender, they melt under your teeth like butter. Their soft texture and sweet flavor make of them one of the best or a perfect bun for a burger.
The Meat: 113 grams patties made from a special blend imported from the US. All burgers are delivered fresh daily. They are thick enough to retain true juiciness in their center (not just greasiness), but not too big to overwhelm. Their seasoning is just good to be enjoyed as is
The Cheese: American, melting and mild
The Toppings: Green leaf lettuce, sliced Roma tomatoes.
The Sauces: Thousand Island-style Shack Sauce, ketchup, mustard, mayonnaise. It has a slight mustardy kick with relatively little sweetness.
My feelings about the food:
The Shack Burger: One patty is not enough to make your experience complete, so I would surely recommend the double option. Two patties, juicy but greasy together with a tasty slice of completely melted cheddar cheese; makes the trio of bun-meat-cheese melt under your teeth like butter. A crunchy green lettuce and a thin slice of tomato add that hint of freshness, making this an enjoyable bite.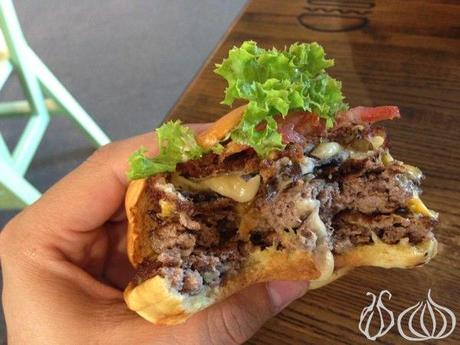 Double Shack Stack: That's not a burger from the fainthearted! Add to the thick (four fingers) Shack Burger another 2cm making of this huge creation a meal not every person can handle. A fully loaded juiciness is decorated with a crunchy crisp-fried Portobello mushroom filled with melted Muenster and cheddar cheeses. Wow! Be prepared for an extravaganza. I enjoyed so much the grilling aftertaste felt over your palate.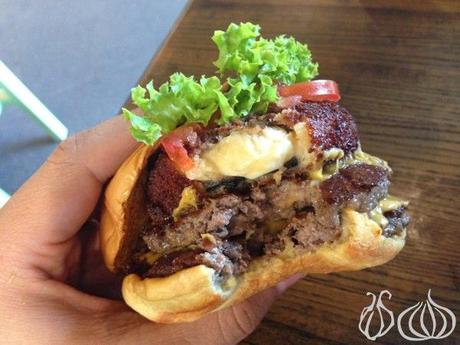 Fries are interesting and unique. Many don't like them but I personally found them outstanding. I like the heft and size of the fry and the way the stubby, crinkly cut shape visually complements the overall size of the meal. I like the way the ridges serve as a perfect dredging vehicle for wiping up your excess ketchup.
I would definitely not recommend the fries with cheese as their price and taste is not worth it. Those fries are better enjoyed with ketchup
Don't leave Shake Shack without trying two of their desserts. The Beirut Blend especially created for our country and the Centre Piece, Beirut City Centre's special. The cold concrete bowls are served with a hole in the middle. Don't judge them too quickly as they taste nothing like the McDonald's Sunday.
Cold, rich and filled with rich aromas, the Beirut Blend is a tasty dessert. Vanilla custard, strawberry puree and pistachio backlava all felt a bite after the other. I really enjoyed the adequate quantity of sugar and especially the idea of integrating baklava into this originally New York dessert.
The City Centre Special creation is even better, richer and tastier than the Beirut one. Chocolate custard, peanut butter sauce, fresh banana and shortbread cookie: What an amazing blend! Sweet and salty coupled with the cookie crunch before feeling the banana and cocoa aftertaste around your palate that accompany you for many minutes afterwards.
The things I liked: 
The latest hit music continuously plays in the background
More than 25 employees are working like a beehive. All proud to be part of the family
The staff is truly exceptional
The meat, even though it's well done is rich, juicy and tender
The fries are a must try
The buzzer idea is interesting
 The things I didn't like:
The prices are way too high. A Double Stack is 17,000L.L, adding to that fries and a Coke, you'll end up paying 28,000L.L for a double cheeseburger. Are we having a gourmet burger at the Four Seasons Hotel here?
6,000L.L for a soft drink! Isn't that a bit exaggerated?
The burger is fatty and filled with too much calories: Not an everyday meal, but worth enjoying every once in a while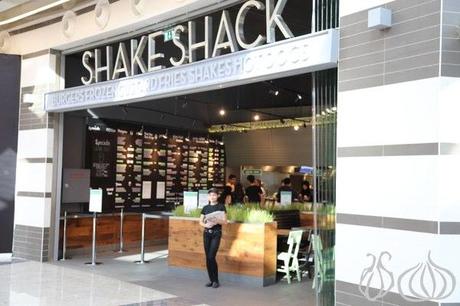 I would definitely encourage everyone to try Shake Shack. I would like to the opportunity here to ask the management of this new eatery to promise Lebanon that they will keep up their professionalism. You are getting us used to a new kind of welcoming and service that we hope to experience everywhere around Lebanon.
























Pages  [
1
]  [ 2 ]  [ 3 ]  [ 4 ]  [ 5 ]