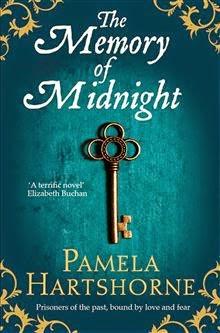 Reading: The Memory of Midnight by Pamela Hartshorne
Historical novels are my best favorite kind of books, as well as classic literature.
The Memory of Midnight
is the one I'm reading at the moment. It is a thrilling mystery story by Pamela Hartshorne, taking place both in Elizabethan York and present-time York, dealing with two distant eras and parading two different heroines, both prisoners of the past, bound by love and fear. 
This book was a gift from a good friend of mine living in York and it has a special dedication from the author to me on the first page. I don't expect you to remember, but Pamela Hartshorne was my guest
here
at FLY HIGH! to present her first historical novel,  
Time's Echo, 
back in September 2012.  I had read, liked and reviewed her novel and she kindly accepted to be interviewed. 
My friend met her in York - where they both live - at the presentation of this second novel and got a signed copy for me. And here I am,  half-way through
The Memory of Midnight
.   I have been loving it so far!
Book Blurb
:  
One hot day in Elizabethan York, young Nell Appleby is trapped in a wooden chest, and a horror of the stifling dark - and of the man who trapped her - dogs her for the rest of her life. Wed to the sadistic Ralph Maskewe, Nell must find joy where she can, until the return of her childhood sweetheart offers a chance of flight to the New World. Will Nell risk all to escape the dark at last?
Four and a half centuries later, Tess and her small son Oscar move to York. Eager to start a new life, away from her overbearing and manipulative husband, Martin, Tess tries to put her marriage behind her. But time in York has a way of shifting strangely, and memories of a past that is not her own begin to surface with disturbing effect. Living two lives, torn between two worlds, Tess must unlock the secrets of the past before she can free herself - and Nell -once and for all.
Re-reading:  Outlander by Diana Gabaldon
Curiously
The Memory of Midnight
promotional ad states:
"

FANS OF DIANA GABALDON AND KATE MOSSE WILL FIND MUCH TO LOVE IN THIS VIVID STORY OF LOST LOVE AND POWERFUL SECRETS"
.
And what have I been reading meanwhile? Diana Gabaldon's Outlander, book one in her 8-instalment saga. As you can easily guess, I did it to get ready for the upcoming Starz drama series and after following the updates from the set. 
My first impressions of the book, back in 2010, were rather controversial. Not that I didn't like it, because I was glued and read that first installment in a very short time taking the book with me almost everywhere. But something didn't work between  Jamie,  Claire, and me at that time. We didn't hit it off, actually. (Check my review HERE)  That's why I decided I wouldn't read the rest of the saga. 
Now last week I found some spare time and I really enjoyed re-reading it.  I still haven't overcome  my doubts 
completely,  
but second time it was better, much better ... Why did I decide to re-read a book that didn't get me totally smitten first time? As I said before, it was because I'm fond of period drama and a TV adaptation was being produced but that's just generally true.  All right, I'll be totally honest with you, as I usually am. 
This is what I wrote about Jamie, the dashing hero of the saga, at that time: "...
Though I think he is  too good to be true. 
Too young, too handsome, too naive, too patient, too impatient, too kind, too strong,  too  ...  fictional! That 
is what he is, in fact.
On a shallow note,  his red hair. Nothing against fair haired people, of course. Only I went on figuring him as tall, dark and handsome".
But I happened to see this bonny lad in the picture below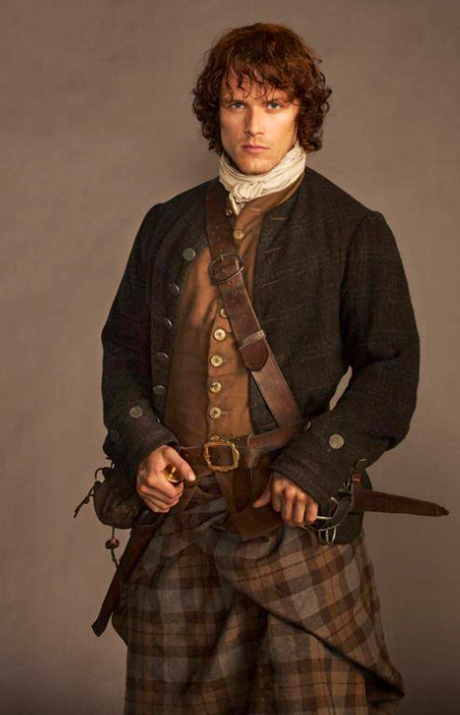 Sam Heughan as Jamie Fraser
and had second thoughts - after feeling just a little bit flustered and uneasy under that stare - and decided that maybe, as I have learnt from my beloved Jane Austen, first impressions may be wrong. I watched interviews, saw pictures and trailers and got more and more curious about the series and  fell under the spell of this young guy in a kilt.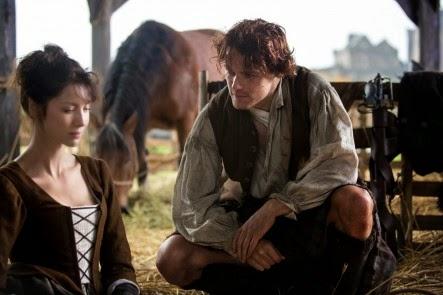 Caitriona Balfe and Sam Heughan as Claire and Jamie
I had to re-read the whole book and I did it  with great pleasure, appreciating Ms Gabaldon's irony and humor more than the first time, and even loving Jamie and Claire more with
Sam Heughan
and
Caitriona Balfe
in my mind. I bet the two actors will make
Outlander
fans really proud for what I have seen so far. For instance the undeniable chemistry between the two, which you can recognize in the clip from episode 1 included in 
this interview 
or , better,  if you have the chance to preview episode one on Starz website. Could you do it?  Did you like it?  US viewers can see it in online (
HERE
) before the series officially premieres on TV on August 9th. Don't miss the chance!
I may be tempted to read on through the saga to discover what happens next, now that I have a "friendlier" relationship with the two protagonists. But first, I want to see the TV drama series. And that, I'm sure, can be very dangerous for my truly romantic heart...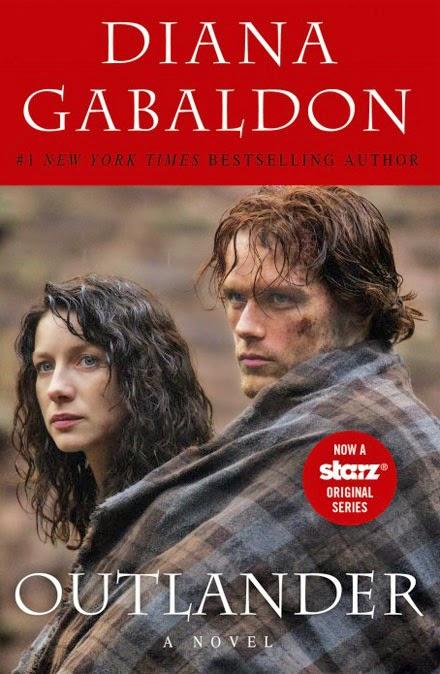 New cover, new tie-in edition
Book Blurb:
The year is 1945. Claire Randall, a former combat nurse, is back from the war and reunited with her husband on a second honeymoon—when she walks through a standing stone in one of the ancient stone circles that dot the British Isles. Suddenly she is a Sassenach—an "outlander"—in a Scotland torn by war and raiding border clans in the year of Our Lord . . . 1743.
Hurled back in time by forces she cannot understand, Claire is catapulted into the intrigues of lairds and spies that may threaten her life . . . and shatter her heart. For here James Fraser, a gallant young Scots warrior, shows her a love so absolute that Claire becomes a woman torn between fidelity and desire . . . and between two vastly different men in two irreconcilable lives
Reviewing: Jane Austen's First Love by Syrie James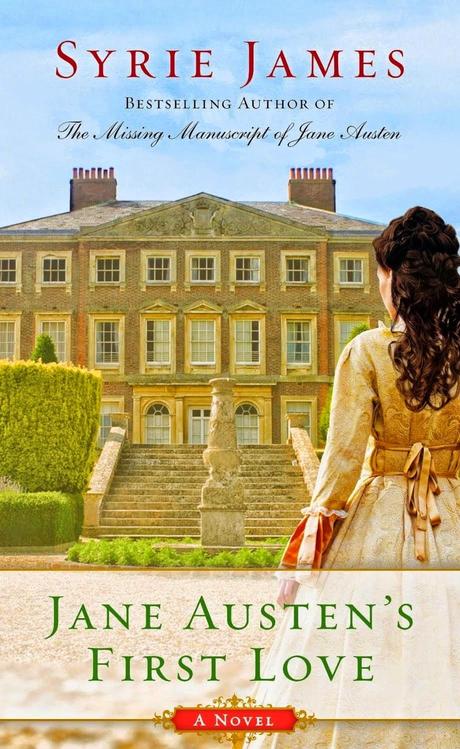 Reviewing books is something I began to do as soon as I started blogging back in 2008. I had never done it before and I have never done it "to the book", meaning as a professional reviewer is supposed to do it. I usually follow my heart in writing my musings more than my brain, and as you can draw from what I was saying about Outlander before, that can be easily affected by the ... hit of the moment. 
Anyway, my latest review is up on my other blog, My Jane Austen Book Club, and it is of a book, Syrie James's Jane Austen's First Love,  I have recently read with Austenesque delight. I was really curious to discover more about Edward Taylor, the young man Jane Austen  met in her teenage and of whom she wrote "Him, on whom I once fondly doated" in one of her letters to her sister Cassandra. 

You know, I'm really fond of everything Jane Austen and this rather unknown part of her life got me intrigued. This book is romantic, it is well-researched and well-written and it is a fast-paced perfect summer read. 

Book Blurb : Fifteen-year-old Jane Austen dreams of three things: doing something useful, writing something worthy, and falling madly in love. When she visits her brother in Kent to celebrate his engagement, she meets wealthy, devilishly handsome Edward Taylor—a fascinating young man who is truly worthy of her affections. Jane knows a match between her and Edward is unlikely, but every moment she spends with him makes her heart race—and he seems to return her interest. Much to her displeasure, however, there is another seeking his attention
Unsure of her budding relationship, Jane seeks distraction by attempting to correct the pairings of three other prospective couples. But when her matchmaking aspirations do not all turn out as anticipated, Jane discovers the danger of relying on first impressions. The human heart cannot be easily deciphered, nor can it be directed or managed. And if others must be left to their own devices in matters of love and matrimony, can Jane even hope to satisfy her own heart?
This book is going to be released tomorrow, August 5th!  Read my review HERE