Deforestation causes devastating effects for the wildlife and communities that are supported by the forest, and in Costa Rica the devastation has been huge. Luckily forward-thinking conservation initiatives by Frontier and local NGOs in the Osa Peninsula have meant that the forest is being repopulated in areas in the hope of saving biodiversity. 
Find out more about Frontier's Costa Rica Big Cats, Primates & Turtles Conservation project.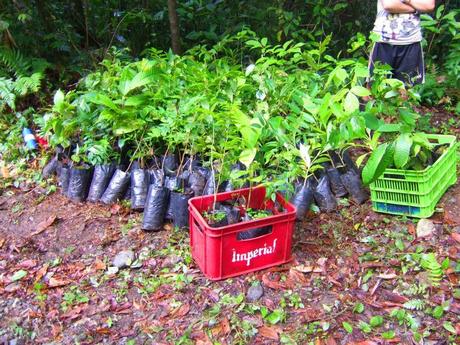 Re-vegetation efforts in Costa Rica.
Image courtesy of Hayley Woods, Frontier Costa Rica Big Cats, Primates & Turtles Conservation volunteer.

Dangers of deforestation
Approximately 20,000 acres of land are deforested annually, and this not only adds to loss of wildlife but also aides the large floods that occur every year. The forest clearance rate between 1986 and 1991 to make way for agriculture, plantations, and buildings was estimated at 4.2%, meaning that forest areas are becoming smaller and the amount of animals trying to survive in these small areas are getting larger.
Deforestation is a danger for wildlife and fragile habitats, as the important eco systems that support the flora and fauna are damaged through the process of deforestation. Also, the increasing nature of deforestation is increasing the fragmentation of forest areas, which leaves wildlife such as frogs, iguanas, snakes, monkeys, birds, tapirs, sloths and jaguars, with smaller and smaller areas to inhabit. This is often a problem as these smaller areas may not be large enough to support the population and levels of biodiversity significantly decrease. The fragmenting of the forest also removes corridors which would usually allow wildlife to travel between different areas of their habitat, and, due to the removal of these corridors, wildlife become isolated.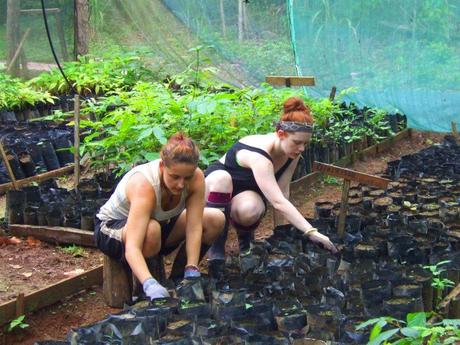 Volunteers and seedlings in Costa Rica.
Image courtesy of Hayley Woods, Frontier Costa Rica Big Cats, Primates & Turtles Conservation volunteer.

Re-vegetation programme
The Society for Environmental Exploration/Frontier (SEE) has been working within Costa Rica to identify abandoned locations which had previously been cleared for plantations, and are now beginning to resemble primary forest again. However, while starting to look more like the forests that used to cover the land, these areas are still without many species that were once native. In order to help these species reclaim the land, the team is now collaborating with a local conservation group to initiate a re-vegetation programme. This will ensure that a more diverse and natural forest system returns and forms for the benefit of the local wildlife, hopefully encouraging those species that once inhabited these areas to return.
This process of re-vegetation involves the use of native species seeds that are taken from local areas to establish seedlings within a nursery. Once saplings have germinated and are well established, they are planted outside. And eventually, once thriving, they are distributed within the deforested areas of the plantation. The most abundant species that are being re-established within the area are Bateo (Muntingia calabua), Cristobel (Ayenia limitaris), Sapote (Pouteria sapota), Maria (Aglaonerna sp), Cedro (Cedrela Assilis) and Dulce (Pithe Cellobium dulce). The volunteer team works on bagging soil, weeding saplings, collecting relevant seeds from nearby forest areas, all to ensure the future cycle of these plants continuing.
The long term plans for this re-vegetation programme is to re-establish the native plant species with the hope of encouraging a return of local wildlife, and that current plant life will flourish and increase. With the help of the team of volunteers and permanent workers working to reforest Costa Rica, hope remains for the flora and fauna that dwells in the forest to thrive once more.
Learn more about Frontier's opportunities to volunteer abroad and take part in wildlife and marine conservation on the website.
Join the Frontier Community online with Facebook, Twitter, and Pinterest.
See more from volunteers on Flickr and YouTube.