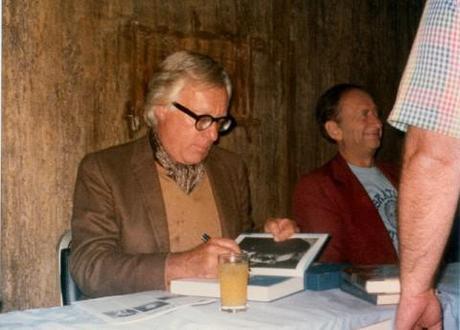 Ray Bradbury, the author, at a signing in 1977. Photocredit: California Cthulhu (Will Hart)
The background
The science fiction writer Ray Bradbury has died, aged 91, in Los Angeles, on Tuesday 5th June 2012 – peacefully, and after a long illness. He was considered one of the most influential in his genre, bringing it into the mainstream alongside such writers as Isaac Asimov and Arthur C Clarke. He sold 8 million copies in 36 languages, reported The New York Times. His most famous books included Fahrenheit 451, in which a dystopian world is imagined where books are burned, (which was made into a film – watch a book-burning scene here) and Something Wicked This Way Comes, as well as short story collections. His career lasted 70 years, with his final essay being published in The New Yorker this week.
His first collection of short stories, The Martian Chronicles, celebrated space travel and won critical acclaim. He was born in 1920, in Waukegan, Illinois; his father worked for the electric company and was descended from a woman who'd been tried as a witch at Salem, Mary Bradbury. He was largely self-educated, and attributed his success to the fact that he'd never been to university.  He wrote hundreds of short stories and short novels, as well as plays, screenplays, children's books and essays. His books predicted many things, said the CNN obit, including ATMS and live broadcasts of fleeing cars. The site quoted people from President Barack Obama to Steven Spielberg to Stephen King, all of whom laid their tributes at Bradbury's feet. Many of his books are being taught in schools. Tributes are pouring in to celebrate the life of a man who brought good science fiction to the masses; who was an inspiration to many; who hated the internet; and who, most importantly, carried on writing until the end.
"His legacy lives on in his monumental body of books, film, television and theatre, but more importantly, in the minds and hearts of anyone who read him, because to read him was to know him. He was the biggest kid I know," said his grandson Danny Karapetian, quoted on The Telegraph.
A Bradbury story meant something on its own
Neil Gaiman, on The Guardian, remembered Ray Bradbury as "the kind of person who would give half a day to a kid who wanted to be a writer when he grew up." He loved the stories, growing up. "A Ray Bradbury story meant something on its own", full of magic, atmosphere, language. "He left the world a better place, and left better places in it: the red sands and canals of Mars, the midwestern Halloweens and small towns and dark carnivals. And he kept writing."
There was much more than Farenheit 451
Farenheit 451 is an "eerie little book," said Malcolm Jones on The Daily Beast, that "grows more prescient with the passage of time." But that book is an "anomaly" – the only science fiction he wrote, he claimed; the rest was "fantasy." The best parts of his books "are pure reverie." His books "had teeth" – Something Wicked This Way Comes in particular. The greatest lesson of his books was "don't be afraid to fail."
If you want to honor Bradbury, go out and read
And Farenheit 451 wasn't about censorship, said Chris Taylor on Mashable. In it, society has turned away completely from knowledge itself. Poetry and literature are slammed; adverts drown peoples' thoughts. Sound familiar ? Sure, we don't burn books – but perhaps we are starting to ignore them. "o you want to honor Bradbury's memory? Read a novel. Read poetry. Read something that disagrees with your viewpoint; heck, read something that disagrees with itself."
Bradbury changed people
Dan Gilmor on The Guardian said that reading Bradbury had changed him. The power of his visions is still strong, but his work was great because it focused on "people and how they dealt with life and the unexpected." He was scornful of TV and the internet, calling the latter a "cultural sinkhole." But "Thank you, Ray Bradbury. You changed me, and I am grateful."
'You don't have to burn books to destroy a culture. Just get people to stop reading them.' – Ray Bradbury

— Matt Haig (@matthaig1) June 7, 2012
Just finished writing #RayBradbury piece for @GuardianBooks @Sam__WellerSadness. But a great life, and indelible images.

— Margaret E. Atwood (@MargaretAtwood) June 7, 2012