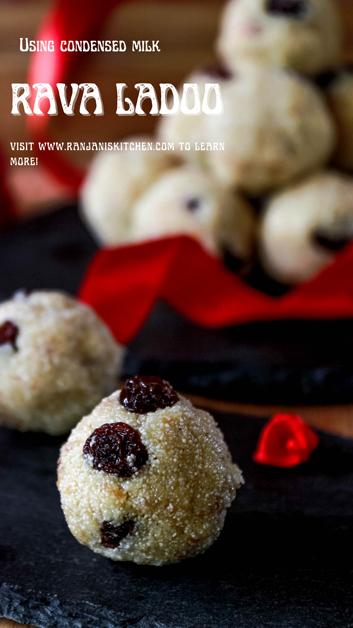 rava ladoo with condensed milk - an easier and quick ladoo recipe than usual rava laddu. Check below for rava ladoo video and step by step pictorial guide
What is rava ladoo with condensed milk?
Rava laddu with condensed milk is made using milkmaid(condensed milk). It needs very simple ingredients to make. I have used an equal amount of condensed milk and rava. You can use any variety of rava (sooji) like roasted or non roasted. If you feel the size of the rava is bi, you slightly pulse it before roasting. And I added store bought desiccated coconut which measures about ¾ cup. And to these ghee, cashews and raisins and cardamom powder. So these are the very simple ingredients to make an easy rava ladoo recipe with condensed milk.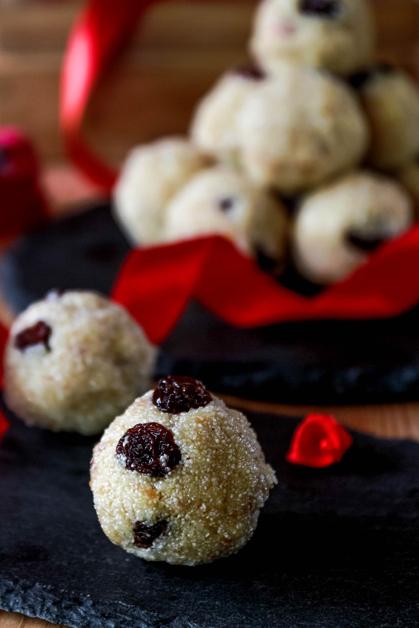 Storage & serving suggestions:
This suji ke laddu is served fresh at room temperature for 4 to 5 days. If you make big batches, you can keep them refrigerated after 3 days. Mine finished in 5 days because I made it in a very small batch. For storage you store in any glass container or stainless steel boxes. I do not recommend plastic storage.
Milk: if you find the dough is tough to make ladoo, you can add 2 to 3 tbsp of milk. But if you added milk. You should refrigerate them on the same day you made them. Shelf life is not the same as without milk.
Sweet : condensed milk has a strong sweetness. So for me it's not required to add further sweetening. But if you require it, you can add sugar while adding desiccated coconut.
Ingredients:
video for rava laddu with condensed milk:
How to make rava ladoo with condensed milk:
Make ready desiccated coconut using copra or dry roast the coconut if you are not using store bought desiccated coconut.
Now heat a strong bottomed kadai,add 2 to 3 tbsp of ghee. Once heated , add cashews and raisins.
Saute in low flame until cashews slightly change in color and crisp and raisins start to puff.
Drain the excess ghee and keep it in a separate plate until we use it for ladoo.
In the same ghee , add 1 cup of rava. Roast on low flame until a nice aroma comes. It will take 30 secs to 1 min. Do not burn the rava.
Add ¾ cup of desiccated coconut. Saute with rava for 30 secs. Add roasted cashews and raisins and cardamom powder to it.
Mix everything well and add 1 cup of condensed milk.
Give it a quick mix and turn off the flame.
Scrap bottom without sticking. Let it cool slightly.
Make equal sized laddus while it is slightly hot.
Grease your hands with ghee, if the dough is sticky.
Once the ladoos are cooled, store it in an airtight container.
Serve for lord kishna during janmashtami(krishna jayanthi) or if you are making it on normal days enjoy it accompanied with some spicy munchies.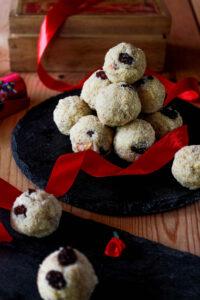 easy rava ladoo recipe with condensed milk
(Visited 22 times, 1 visits today)