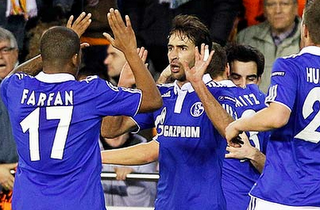 Schalke 04 came back from a goal down to draw 1-1 against Valencia at the Mestalla. While Valencia were dominant playing at home, Schalke had plenty of chances and could have won the match if Huntelaar and Junmin Hao had scored their chances. But it was Raul who scored Schalke's important away goal, the Spaniard scored his 71st goal in European competitions.
Both sides had chances in the first minutes, with Huntelaar having the best one when he was in front of the goal with the ball in the air. Yet instead of smashing it into the net, the Dutch forward completely missed the ball with his foot, comically failing to score. Valencia then scored in the 17th minute with Soldado, who pounced on Mathieu's cross and tapped it in with ease.
After that, Schalke had a penalty shout when Topal protected his face with his hands inside Valencia's box. While many Schalke players were protesting for a penalty, the ball was crossed towards Kluge, who's header was tipped onto the crossbar and out of play by Valencia keeper Guaita.
Raul then forced Guaita to make another good save in the second half, with the striker volleying towards the bottom left corner of the Valencia goal. At the other end of the field Ricardo Costa scored, but his goal was wrongly ruled for an inexistent offside.
Then in the 64th minute Raul received the ball in the box, turned with his first touch, and slotted a classic finish to equalize for Schalke. It was a wonderful goal, and I'm glad to see that Raul is still able to produce his goalscoring touch in the Champions League.
Schalke will rue the fact that Junmin Hao didn't do better with his opportunity in the final minutes of the match. One on one with Guaita, Hao could only manage to release a weak shot which the Valencia keeper tipped out for a corner.
Schalke also had Schmitz sent off in the 90th minute after receiving his second yellow card. Initially the referee had given him a yellow card and forgotten that he had booked the player for a second time, but his assistant reminded him that two yellows = a red, and so Schmitz was sent off.
Therefore Felix Magath will have to do without Schmitz for the return leg in Germany. But if Schalke manage to not concede and play as well as they did today, progressing past Valencia won't be difficult. What were your thoughts about the match? Share them in the comments below!