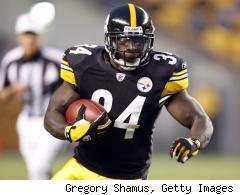 - Adam Parker
Pittsburgh Steelers general manager Kevin Colbert said it will be at least a year before the team can rely on leading rusher Rashard Mendenhall, who tore his ACL in his right knee in the 2011 regular-season finale, placing the Steel City in a precarious position.
"I never feel good about an ACL until (about) a year,"
Colbert said.
"I'm not a doctor, but that's my mindset. If he gets back before that ... it's a bonus."
Mendenhall, a former Fighting Illini star and the Steelers' first round pick in 2008, is undoubtedly a lock for the physically unable to perform list at start the 2012 season. That designation keeps him idle until after the sixth game of the season, when the Steelers would then be given a 21-day window to decide whether to activate Mendenhall or place him on the season-ending injured reserve list. That decision would ultimately be based on his rehab and recovery rate, as well as other needs on the roster.
Whether or not Pittsburgh can count on Mendenhall to be around at all for the 2012 season is still up for debate. With that said, it's time for the Steelers to start looking at possible contingency plans in case Mendenhall is unable to play.
The first place the Steelers will likely look to fill the void at running back is in their own backyard. Isaac "Red Zone" Redman performed well in a cameo appearance to the tune of 213 yards in the final two games of last year in relief of Mendenhall.
If the Steelers decide to roll the dice and go this route, my guess is it will likely be a running back by super-committee. Most of today's NFL teams usually feature two backs in their rushing game. If Pittsburgh opts to fill the void in house, we could see as many as five guys - Mewelde Moore (if he re-signs), John Clay, Baron Batch (if he has recovered from the season-ending knee injury he suffered in training camp), Jonathan Dwyer and Redman all splitting and competing for playing time.
This is definitely a possible scenario considering the reputation the Steelers have for showing loyalty to 'their guys'. If they do ultimately go this way, I expect Pittsburgh to use the upcoming draft and free agency to bolster their weakness at offensive line. Bringing in some more capable big-uglies will add to the effectiveness of Pittsburgh's running back by super-committee strategy.
If they choose to look outside the organization for help, don't be surprised if they scour free agency for a veteran back who can come in on a one-year deal to hold down the fort until Mendenhall is ready to go. Putting Mendenhall on the PUP list opens up a roster spot for the Steelers to go after a solid journeyman back that will be floating in free agency. Some potential suitors that come to mind are Jackie Battle, Tashard Choice, Michael Bush and Mike Tolbert.
Choice and Battle could most likely be had for pennies on the dollar. Bush and Tolbert fit the Steelers' downhill running scheme to a tee, but are also going to want a little more coin, meaning Pittsburgh should only target one of them if Mendenhall's rehab and recover takes a turn for the worst.
The final option for the Steelers, and the route I hope they take, is to draft a solid rookie running back who at first could be a complement in their super-committee, and potentially be Mendenhall's understudy down the line.
There are three names that come to mind when I think of incoming rookies who fit Pittsburgh's aggressive, downhill running style.
If they're really worried about Mendenhall, Pittsburgh could spend their first round pick on someone like University of Washington tailback Chris Polk. However, I don't see much merit in this as the Steelers have many more pressing needs on the offensive line and in the secondary that I believe they'll address with their early round draft picks.
Should that be the case and the Steelers decide to wait until the third or fourth round to target a ball-carrier, the likes of Mississippi State's Vick Ballard and my personal favorite - Bernard Piece of Temple could still be on the board.
Whatever the Steelers ultimately decide to do in this situation, one thing's for sure -- it's going to be a long offseason for Colbert and the rest of Pittsburgh's player personnel department.
Be sure to follow Beard And Stache on Twitter 
@BeardAndStache
, 
and also Adam 
@Adam_Parker43
, Like our Facebook page 
HERE
!