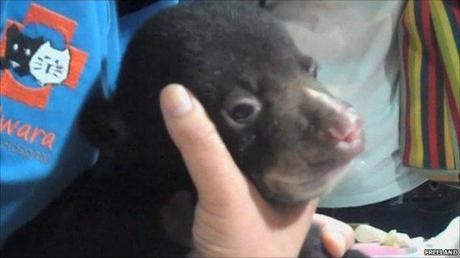 A man was arrested in Bangkok, Thailand last week after attempting to board a flight to Dubai with a cache of endangered animals concealed in his luggage. The animals were all under two months old, drugged and had been placed inside cages within the suitcases.
The suspect from the United Arab Emirates was caught by undercover Thai police who had been monitoring him since he purchased the animals on the black market.
Inside his bags there were two leopards, two panthers, and Asiatic black bear and two macaque monkeys.
"It looked like they had sedated the animals and had them in flat cages so they couldn't move around much" said Steven Galster of the anti-trafficking group Freeland Foundation who was present at the arrest.
Last month Thai customs officials intercepted 1,800 Bengal monitor lizards destined to be sold as food. The lizards were placed in blue mesh bags and hidden behind some fruit but were discovered on the Thai-Malaysian border. Lizard meat is something of a delicacy in Asia and is extremely valuable.