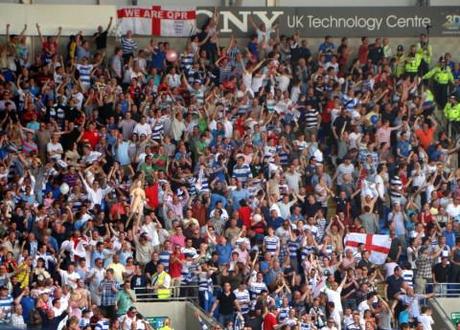 QPR fans celebrate a goal at Cardiff. Photo credit: Jon Candy
Queens Park Rangers
Premier League
Let's go back to the early nineties, to the early years of the Premier League, to a time when Gerry Francis' QPR were a force. In 1992/1993 the superhoops finished fifth in the inaugural Premiership season. That finish made QPR top London club, ahead of nobodies like Arsenal and Chelsea. But the sale of key players, including 'Sir' Les Ferdinand, coupled with woeful managerial decisions (I'm looking at you Ray Wilkins) saw QPR relegated in 1995.
Fifteen years ago, all the talk in Shepherd's Bush was of bouncing straight back up. In a declaration of intent, QPR saw off Manchester United's interest in young striker Kevin 'Magic Hat' Gallen. In the first game of the season in the second tier, Gallen did his cruciate away at Portsmouth. For QPR and its long-suffering fans, it's been a long trip southwards ever since.
Since 1995, QPR have been languishing in the lower depths of the football leagues. As Sky television money helped catapult the Premiership into a global phenomenon, a brand adored from Kinshasa to Kyoto, QPR locked horns in the league with footballing featherweights like Rushden & Diamonds, Port Vale and Mansfield Town.
Like sheep to the slaughter, we kept going. Even when rangers found themselves in administration and in the third tier. Who knows quite why. This hopeless addict has watched on from the Ellerslie Road stand for the last 15 years. I've seen some horrible things. I've seen the Rs knocked out of the cup by, quite literally, a team of mechanics (Vauxhall Motors). I've seen QPR make the plucky shrimpers of Southend United look like Barcelona. I've seen gangly defender Georges Santos thrown up front in utter desperation. I've seen Brett Angell 'play' football. Shudder. Mostly, it's been impossibly grim. But football is a peculiar drug. Just when it all looks unremittingly bleak, there's a flicker of hopeless hope. With ten minutes to go the manager will throw on a raw, untried young buck. You'll see he has a nice first touch, an electric turn of pace, you'll kid yourself he's the next Sir Les. Take Richard Pacquette or Shabazz Baidoo (real name). In brief spurts, both looked the business. Pacquette's now in the non-leagues. Baidoo chose a career as a grime MC.
But then something happened. The money rolled in. Italian playboy Flavio Briatore and F1 supremo Bernie Ecclestone saw a business opportunity. They saw a down-at-heel club not that far from the King's Road and figured they could have a bit of fun with it, build a brand in their image. They branded it a boutique club. They instituted a VIP Centurion Club area, complete with catering by Ciprianis (not Pukka Pies). They invited Naomi Campbell down to The Bush to play on their football club shaped yacht. They even sold cashmere hoodies in the club shop. The fans blushed. But they didn't care. We had our sugar daddies at last.
Briatore invited Naomi Campbell down to The Bush to play on his football club shaped yacht.