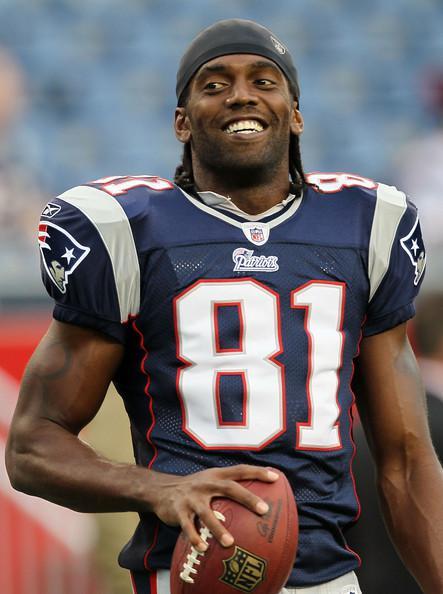 Photo: Jim Rogash/Getty Images
- Adam Parker
Despite being cloaked in uncertainty about the potential retribution for widespread bounty allegations, the New Orleans Saints continue to conduct business as usual by looking at potential talent to add to their roster.
The Saints will reportedly work our former All-Pro receiver Randy Moss on Tuesday, multiple sources told FoxSports.com on Monday.
Moss announced on his 35th birthday that he was ending his one-year retirement and had plans to return to football for the 2012 season.
The Saints are believed to be one of a few teams that are interested in bringing Moss in for a work out in the coming weeks.
Moss' 153 career touchdown receptions are tied with Terrell Owens for second on the NFL's all-time list. He's fifth all-time in yards and ninth in receptions. He's also continued to vouch that he still has the deep speed to torch opposing defenses despite his advanced age. Any team that signs him is hoping he can add to his 29 touchdowns of at least 50 yards, which is ranked second only to Jerry Rice's 36.
He led the NFL in touchdown receptions five times and made six trips to Hawaii as a Pro-Bowl selection as well as being named first team All-Pro four times. His 23 touchdowns in his 2007 campaign with Tom Brady and the Patriots led the entire NFL and his 138 points scored that season were second only to Packers kicker, Mason Crosby.
The fact that the leader board for the league leaders in points is almost always flux with kickers, makes seeing Moss' name in the mix in '07 an even greater accomplishment.
I personally think that Moss would be a fine fit for the Saints. With the impending loss of receivers Marques Colston and Robert Meachem to free agency, Moss could prove to be a welcome replacement for one or both players; as long as he still possesses the same skill set he's earned his paycheck with over the years.
At 6'4" and 4.3 40 speed, Moss has the tools of both Colston and Meachem in his arsenal, and if he can prove that he's the Moss from the Patriots and not the one who was grossly ineffective for the Vikings and Titans in 2010, I have no doubt that the Saints could be looking at a bidding war for his services.
My guess is that Moss ultimately ends up with the Saints, Patriots, or wherever Peyton Manning signs. Any team that has an elite veteran quarterback who can get Moss closer to that ever-elusive Super Bowl.
Be sure to follow Beard And Stache on Twitter 
@BeardAndStache
, 
and also Adam 
@Adam_Parker43
, Like our Facebook page 
HERE
!