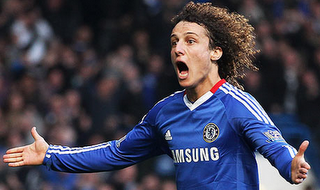 David Luiz scored the opener against Manchester City
Unless you hit the ground running, life can be very difficult as a new signing. At Chelsea we saw two Brazilians join, Ramires in the summer and David Luiz in January, and they've both had very different stories with the Blues so far. But recently they both proved very useful to an underachieving Carlo Ancelotti when they both scored to defeat Manchester City at Stamford Bridge.
It was a very tight affair at Stamford Bridge. Roberto Mancini had set out Manchester City to defend and counter, giving Chelsea the majority of possession and goalscoring chances. Chelsea eventually scored in the 79th minute when David Luiz flicked Drogba's free kick past Joe Hart. The Brazilian defender had played a dynamic and lively match, defending well with a youthful energy, and his header culminated his excellent performance.
Having seen his side go a goal down, Roberto Mancini decided to try and change the course of things. He substituted Yaya Toure and James Milner with Mario Balotelli and Adam Johnson, in hopes that the young pair of substitutes could conjure up a goal. While this move allowed Manchester City to press forward more often, it opened up holes for Chelsea to take advantage of. And in the 90th minute Ramires skipped past the Manchester City defence (like a hot knife through butter with delightful Brazilian flair) before banging in the second goal of the match.
Two goals scored by two Brazilians, winning an important match for Chelsea. With these three points Chelsea leapfrog over Manchester City into third place, solidifying their hopes for a Champions League place. Manchester City on the other hand are in a slightly precarious position to remain in fourth place, with Tottenham just four points behind them. To make things tighter, Spurs have a game in hand which if won, can bring them just one point behind Manchester City.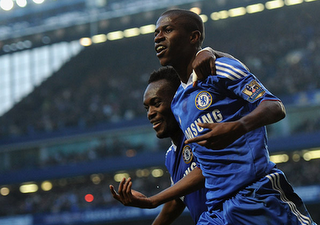 Ramires celebrating his second goal for Chelsea 
But back to Chelsea and the Brazilians. While David Luiz arrived in January, playing well from the start and scoring important goals against Manchester United and now Manchester City, it was a slightly different story for Ramires. While David Luiz came to Chelsea as a central defender with skill, Ramires came to Chelsea as a confused midfielder.
Ramires never managed to identify himself in a proper position. He isn't a winger, although his endurance and running ability could suggest that. He isn't an attacking midfielder, because he lacks the invention and spark which one needs. Yet he isn't a defensive midfielder either, his small and wiry frame unable to give many brutish forwards a physical challenge. One could probably describe him best as a complete central midfielder.
Full of energy and vivacity to chase down opponents, Ramires has the bit of Brazilian skill needed to produce moments of magic, and a hardworking attitude which has helped him earn respect at Chelsea. While Ramires is a fantastic utility player, he shouldn't be lumped into that group (a group which is too often under-appreciated). He certainly isn't a player to discard, because he has a tactical understanding which when accompanied with quick thinking makes an underlying difference, often not noticed by the masses.
Now Ramires has begun to acclimatize himself in the Premier League. He has found the right physicality to fight for the ball while incorporating elements of skill into his game at the right time. It all culminated for him against Manchester City, when Ramires was strong throughout the game and he eventually scored a brilliant goal with his Brazilian feet.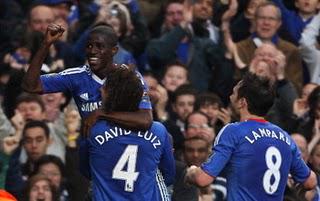 A picture perfect Brazilian moment ruined by Lampard
David Luiz and Ramires were truly key players against Manchester City, and it seems like the pair's importance will only grow. David Luiz still has much to learn, especially regarding reckless challenges, but with time he will become an iconic defender. Ramires on the other hand has become adept at learning quietly at his own pace, and now that he's comfortable, he is an important piece in Chelsea's midfield.
The question is, will these players be enough to keep Chelsea in the top four? What are your thoughts on the two Brazilians? Share your thoughts about the match, Chelsea, Manchester City, and anything else below!