Reporting this week from Dubai, in the United Arab Emirates
TAKEAWAY: This is the presidential suite of tablet advertising: Ralph Lauren buys the hottest piece of advertising real estate in the tablet neighborhood.  It shows the way for advertisers who want to emphasize storytelling. Great stuff here AND: Report from Dubai—-it is a new weekly for the Metro here. It is simply called Read.
The tablet advertising penthouse suite is here
Take a look at the Ralph Lauren sponsorship advertising for The New York Times' tablet edition:a beauty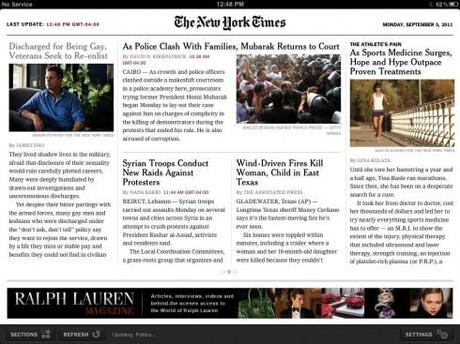 The ad starts as a simple, non-eventful strip ad at the bottom of the Times' opening page. You tap it and get into the Ralph Lauren Magazine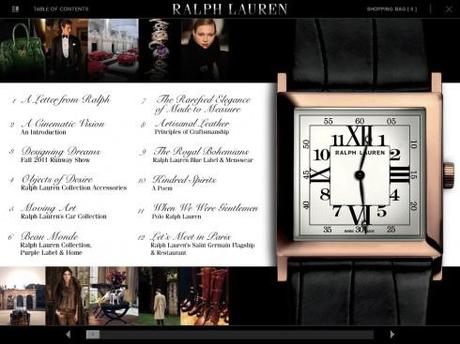 The table of contents page: classic, sophisticated, and, a Ralph Lauren iconic watch that actually gives you the correct time!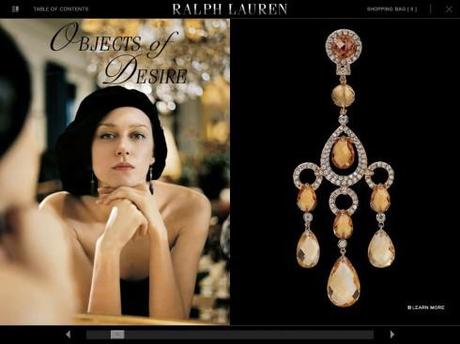 Here is the opening of the Objects of Desire page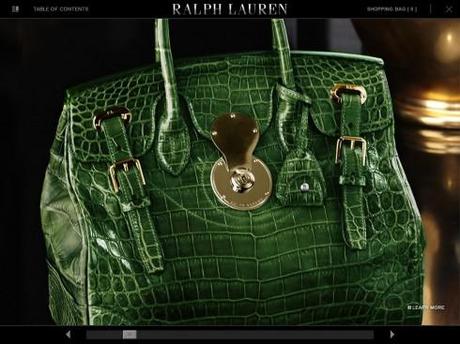 Want a green crocodile skin bag?

When things like this happen in the real estate world, they call it "the sale of the year"—-when location, location, location rule the day.
That is how I would describe Ralph Lauren's new domination of The New York Times' tablet edition.  It is a great Polo ride.  Luscious. Colorful. Seductive. And, yes, he sells you jewelry, crocodile skin bags and everything else with his name on it.
For those of us who study how tablets develop, Ralph Lauren shows you what will be happening with advertising in this new medium.
For months, I have written about the 'advertising suite" concept; where a product weaves a story, in a mini website style, around its product. It is not a hard sell of the product, more like come listen to my story and perhaps you wish to buy what I am selling, and, even if you don't, you will enjoy the ride with us.
This Ralph Lauren advertising is not the mini suite concept. It is the presidential suite located in the penthouse with a view of the sparkling city below and all around. Indeed, Mr. Lauren's firm will be the lone sponsor of the Times' iPad app for September, will provide free access to five paid sections, run live streamed video and will definitely usher in a new type of ad for the format. If advertisers were waiting for the huge pep rally before deciding how to explore the tablet's potential to promote their products, well, here it is: the cheerleaders are wearing Ralph Lauren white sweaters with the big T for tablets on them. Worth taking a look.
Ralph Lauren's advertising is a luxury magazine , complete with a table of contents with titles like "Objects of Desire" (the very Ralph Lauren presentation SHOULD be an object of desire!) or "Let's meet in Paris".  Yes, a Letter from Ralph is also there.  The strip at the bottom of the opening page of the Times' tablet edition promises: articles, interviews, videos and behind the scenes to the World of Ralph Lauren.
Ralph Lauren's campaign will also provide free access to five normally paid sections of the app, including Fashion & Style, Home & Garden, T Magazine, Sports and Travel. In addition, the brand will run live streaming video of its Fashion Week runway show on Sept. 15 and introduce a new type of expandable ad called a "magalog."
What I like most is that this is advertising that could not be described in terms of the tired and bronchial advertorial.  This is delightful reading, seeing, watching, with benefits, and, yes, stories.
Yes, there are stories here
Letter from Ralph Lauren: "Luxury doesn't have to be obstentatious, or even new—it is always true in its authenticity and lasting quality. Luxury, to me, are things that get better with age, from a perfectly tailored suit to old blue jeans or a worn leather jacket."

Moving Art: "This spring, for the first time outside the UNited States, 17 exceptional vehicles from Ralph Lauren's personal collection were showcased at the Louvre's Musée des Arts Décoratifs, outlining in cinematic detail some of the most influential moments in automobile history."

Kindred Spirits: "Animals have been our greatest guides—braver than knights, protective, possessive, devilish, like children, yet surprisingly wise."
Dubai has a new weekly: Read.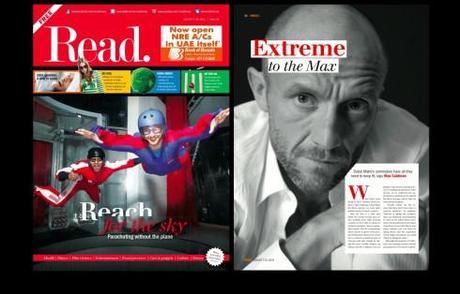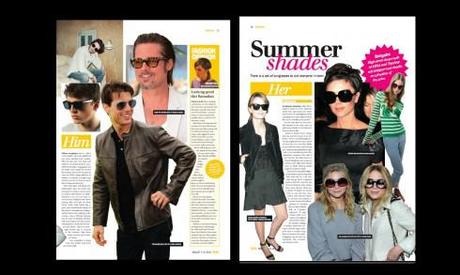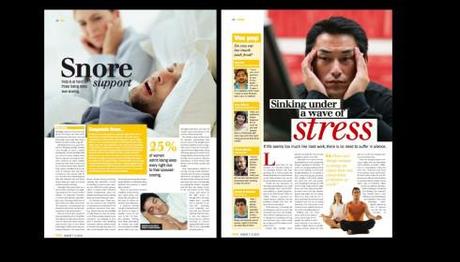 Those commuters taking the Dubai Metro can now sit down to a quick read between stops amidst the glistering skyscrapers that dot this iconic city in the desert.
It is called Read. and the website is http://www.readme.ae
Readhas no newsy pretentions at all; it is all features, with a poster cover inviting the reader in with such headlines as Reach for the sky: parachuting without the plane, and a tease to a story that is a guide "to stop snoring".
In between, columns titled Metro Life, or Metro pics (taken and contributed by riders of the futuristic Metro),  Fashion and fitness play a part (how can the Metro riding man can fit?), and summer shades that aim" to suit everyone in town".
There is color on every page. The layout is a little tabloid, somewhat magazinish, cutouts galore, plenty of white space, and the entire issue of 48 pages is stitched, so there will not be pages of Read. floating around the Metro cars—-a plus for the environment.
And, yes, Read is owned and managed by the Dubai Metro system itself. As such, it is the only publication allowed to be distributed in the Metro. Not too shabby in terms of competition.
However, the newspaper or tablet in the rider's bag are allowed, and, therefore, there is not a total monopoly on what one reads in the Dubai Metro. There are also those Metro riders who prefer to gaze at the buildings and the cranes around them, identifying that new skyscraper going up now that was not even started last week, and so on.  Indeed, this is tough competition for the media.
Read also has its own YouTube component, with segments about local stories involving Metro riders. See one here:
TheMarioBlog post #849