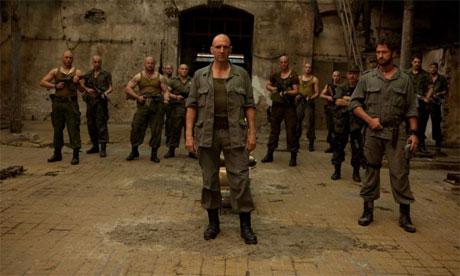 Ralph Fiennes as Coriolanius: Don't mess with him. (Publicity shot for the film.)
Ralph Fiennes (perhaps most recently best-known for playing the Dark Lord Voldemort in the Harry Potter films) has got something to say about Twitter: it's making us all into illiterate twerps. Fiennes, whose directorial debut, Coriolanus, premiered at the London Film Festival this very week, was speaking out about his worries that language in the youth of today is being "eroded." Not even students at drama school are exempt from this fearful plague – they are less able than their forebears to deal with the density of Shakespearian text. Needless to say, Fiennes is not on Twitter.
"I think we're living in a time when our ears are attuned to a flattened and truncated sense of our English language, so this always begs the question, is Shakespeare relevant? But I love this language we have and what it can do, and aside from that I think the themes in his plays are always relevant", said Fiennes, quoted on The Daily Telegraph.
"It's only natural that with people trying to fit as much information in 140 characters that words are getting shortened and are even becoming redundant as a result", said linguistic expert J P Davidson, also on The Daily Telegraph.
Here's the dramatic (and not at all dumbed down) trailer for Coriolanus:
You're wrong, Dark Lord! "#whatever #shutupvoldemort", said Seth Abramovitch on Gawker, saying that what will "never be flattened or truncated" is actors plugging their films. "Don't get Ralph started on his sententious exegesis on establishmentarian perturbation! He'll gnaw your ear off for hours."
But nothing can be done. Michael R Gideon, on 100gf / Politics and Computers, said that people would always change language, and there was no way of halting that change; plus, there will always be people who choose to use short words, just as there will always be people who use long ones.
You're right, Dark Lord! Teacher Tom Nicholas agreed on his blog, The War Room, saying "If you write 140 characters at a time, sooner or later you'll start to think 140 characters at a time."
Tweet, tweet. Twitter comments, on the other hand, seemed mostly to focus on the unrelated fact that the name "Ralph" is pronounced "Rafe", suggesting that Mr Fiennes was unable to spell his own name correctly.