April 17, 2014
From Yahoo: The sneakers feature the initials of every victim of the attack, with the now famous "BOSTON STRONG" slogan and the number "41513″ — representing the date (April 15, 2013) of the tragedy — on the tongue.
Rondo's marathon kicks. pic.twitter.com/SUxK0BqKFR

— Ben Watanabe (@BenjeeBallgame) April 16, 2014
Straight chills on this one.  How amazingly fantastic are these shoes?  I mean with all the colors and styles being thrown around, Rondo just casually drops the best shoe out right now.  Just so much to love about Rondo going out like this.  He didn't even play, but still wore the shoes as he had planned.  Every victim, the date of the attack and Boston Strong to top it off.  Rondo may be an ass at times, but the kid couldn't have shown more class with these kicks.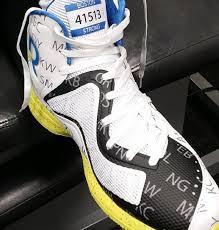 Post navigation
← How Slick Are These Police and Firefighter Uniforms the PawSox and Iron Pigs Will Wear on April 26th? Throwback Thursday Fire Jams Are Back, Competition Style: Tupac vs. Tupac →