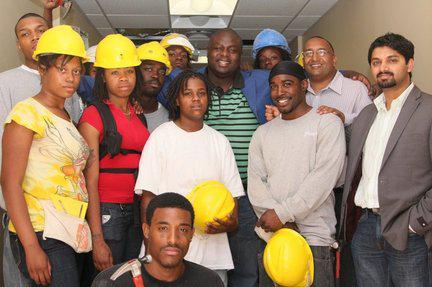 Members of South Africa's Youth Build Programme
Encompassing the topics of human rights and development, labor rights and corporate governance, the theme of social sustainable development has been widely deemed necessary for overall national growth. The creation of sustainable social development has yet to be mastered by any state, though the success of a prospering social development program can be increased through creating a culture of responsible youth. The South African Human Settlements Minister, Tokyo Sexwale, recently urged the younger generation of South Africa to have a greater positive impact in their communities by increasing local volunteering.
The minister's recommendations came from his speech during the inauguration of houses built by young volunteers.  Thirty-six houses were created as part of the 36th anniversary of South Africa's Youth Day, in cooperation with the Youth Build Programme. The programme encourages young people to be active in their communities through the constructing houses for disadvantaged families. Sexwale also stated that "…despite the challenges, [young people] can still do things to better people's lives, things like what these youngsters have done". This particular project has produced a total of 95,000 houses constructed by young people. The minister's department plans to further other initiative programs within the country to include more youths in South Africa's efforts.
Furthermore, the Presidency for Performance Monitoring and Evaluation has requested all South African ministers to contribute a report on "what they have done for youth". The accountability that the country is holding is another great step forward to raising the bar for sustainable social development in the country.
As South Africa strives to raise a community of socially responsible volunteers, other nations wanting to address sustainable social development can learn from their example. By educating youth on the importance of community organizing, volunteering and social change, more natural sustainable social development can be created. Government-sponsored and grassroots organizations alike should encourage participation in community focused events and practices. In a country like South Africa, that struggles with people under 35 contributing 50 percent of unemployment, programs that encourage successful social development that is able to be passed on can greatly influence the future of the nation.
The use of tools like cultural diplomacy can help implement further sustainable social development, as well as build bridges between cultures and communities. Dialogue between the young, old, government and non-governmental sectors alike is necessary to bring forth change, not only in developing nations. The importance of continued social development is to bring equal access to our world's social resources and to increase the capabilities without future compromise. If we encourage social awareness for advancement at a young age, the capacity for social change is endless.