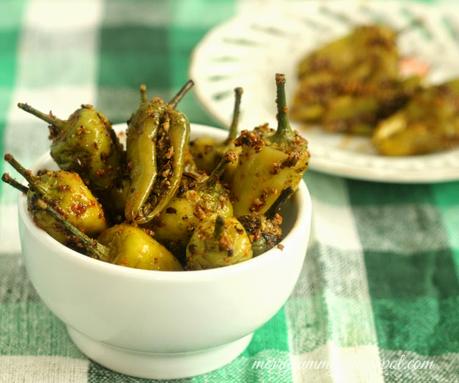 Rai Ki Mirch is a very poplar pickle in Rajasthan made with green chillies (hari mirch). No matter what the season is, this pickle is always relished. Unlike other Indian pickles this is neither time consuming nor does it need sun bathing. This is the quickest and instant green chilli pickle you will ever make. There is nothing better than homemade pickle, no preservatives and you know exactly what's going in the recipe. If this sounds interesting to you, then, do see my instant mango pickle recipe.
I am from Rajasthan that too a marwadi and I exactly know how important this rai ki mirchi is for people of Rajasthan. There are many varieties of chillies available in the market; all I look for is fat chillies with pleasant green color. My mom explained me; slimmer chillies have more heat in them. So when I saw these chubby chillies at the nearby Bangladeshi store, I picked it up with no other thought but turning them into pickle.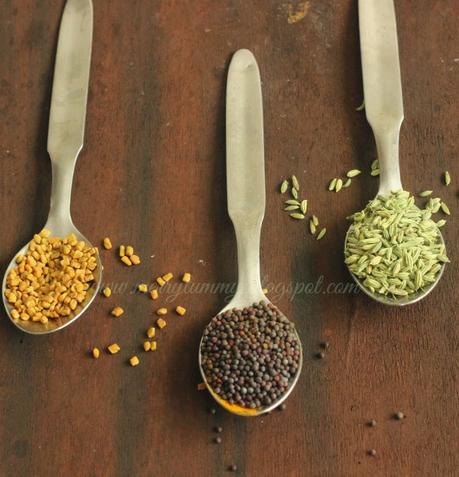 The mixture of spices with mustard oil (sarson ka tel) and lemon juice, oozes out sharp and peppery flavor which is to remembered by the tounge forever.

But it is no ordinary chilli pickle; The unusual process of stuffing the chillies is the unique and exceptional characteristic. I prepare it many times in small batches and gobble it with

parathas

,

aloo puriand pulav

. Over all; no rocket science, no pain- all you need is the appetite to relish it.
Ingredients:
1 cup green chillies- washed and dry
1 tablespoon lemon juice
1 ½  tablespoon Mustard seeds/ rai
½ tablespoon fenugreek seeds/methi
2 tablespoon fennel seeds/saunf
1 teaspoon dry mango powder/amchur
Pinch asafoetida/hing
Salt to taste
1/4 cup mustard oil
Method:
Slit green chillies such that it opens like a pocket. Remove the seeds and keep aside.

In the grinder, grind fenugreek, fennel and mustard seeds into coarse powder.

Heat oil to the smoking point and then let it cool. Now again heat the oil (only till it gets warm).

Mix the warm oil with asafoetida, salt, dry mango powder and grinded coarse powder. Keep this paste aside for 1-2 minutes.

Fill ¼ teaspoon of the above paste in each chilli. Do same with the remaining chillies.

Finally mix in the lemon juice and toss well.

The pickle is ready to eat. Store in any airtight glass or plastic container.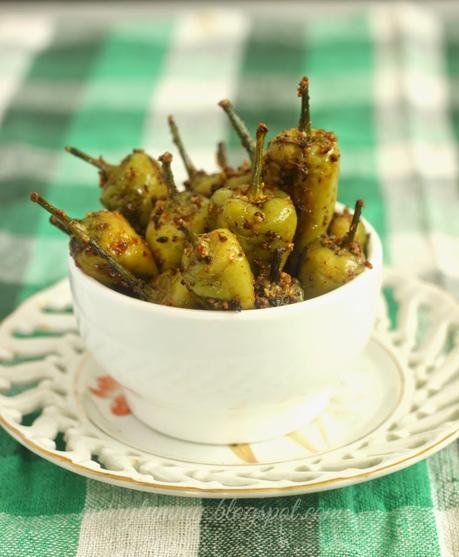 Notes:
It stays fresh up to 3 weeks in the fridge. (Fresh is always better)
Any type of chillies can be used, depending on the level of heat you can handle.
I grind the spices in the large quantity and keep it ready for the future use.
Any other oil can be used instead of mustard oil. (No olive oil please)