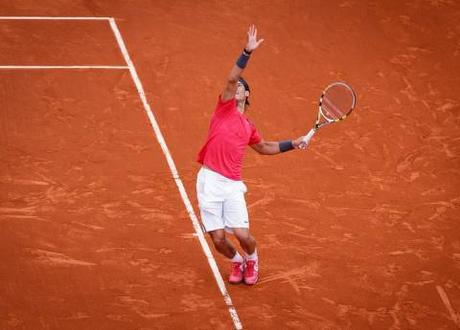 Rafael Nadal serving on the clay. Photo credit: iota_fr
The background
Rafael Nadal has beaten arch rival Novak Djokovic 6-4, 6-3, 2-6, 7-5 to win his seventh French Open title at the age of just 26. Nadal's remarkable achievement at Roland Garros eclipses the record of six wins posted by Bjorn Borg. Djokovic fought to the last in a pulsating (and rain-interupted) final which was always bound to prove a historic contest – had Djokovic won he would have been the first player since Rod Laver to win all four major tournaments in one season. Nadal has now won 11 Grand Slams in total.
Nadal on track to match or even better Federer's Grand Slam haul
Kevin Mitchell of The Guardian said that Nadal is on firmly on track to break Federer's record of Grand Slam victories: "The Spaniard turned 26 during the tournament – the same age Bjorn Borg retired – but said he will play for as long as his mind, body and spirit can stand it. If his knees, so troubling in past years, hold up the way they have this summer, Nadal will surely pass Federer's record of 16 slam titles."
The men's game continues to be dominated by the Big Three. They now share 28 of the 29 slam titles since 2005. Roger Federer has 12, Nadal 11, Djokovic five.
Nadal can become the greatest player of all-time
Quoted in The Times (£), Nick Bollettieri, the leading American coach, said : "I've watched tennis for 60 years and Nadal is on the way to becoming the best player on any surface."
"The storylines for global tennis only get better as Nadal and Djokovic continue their back-and-forth. Who will conquer at Wimbledon? And again at the grounds of the All England Club a month later at the London Olympics?" wondered Nicholas McCarvel at The Daily Beast.
Federer's star is waning
Writing at The Daily Beast, Nicholas McCarvel, said that Federer, "long known in the last decade to be the GOAT (Greatest of All Time) has suddenly faded to the background in what has become the Rafa-Nole Show. Djokovic and Nadal's meeting in the Paris final—their fourth straight meeting in a championship match—cemented a fact that many Fed-heads, tennis enthusiasts, and casual fans of the sport long thought to be simple fact: Roger Federer is officially a third wheel in what has become an around-the-world affair between Djokovic and Nadal … suddenly the GOAT has two greater GOATs within his generation."
Rafael Nadal wins a record 7 French Open title. The determination, the biceps, the glare! Vamos! #Tennis— FITZDARES(@Fitzdares) June 11, 2012