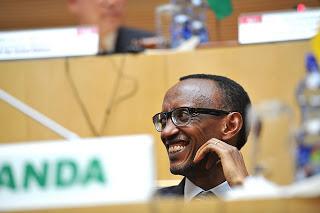 (PHOTO: Prez Paul Kagame in Addis Ababa, Sunday, February 24, 2013)
***
Growing anger is palpable in the streets and among radical
oppositionists in Kinshasa following the signing in Addis Ababa,
Ethiopia, on Sunday, February 24, of the so-called "Peace, Security
and Cooperation Framework for the DRC and the Region."
The mood was already deleterious when Speaker Aubin Minaku started
holding talks with various political players and civil society
stakeholders in preparation of the consultations billed as the
"national dialog against balkanization" called two months ago by
President Joseph Kabila.
Some in the opposition misconstrued this dialog as yet another
platform where new modalities of power-sharing between the ruling
majority and the opposition would be defined.
This group insisted that Kabila couldn't possibly chair or facilitate
such a dialog as he was one among other stakeholders who were his
peers. They were advocating instead that the venue of the dialog be
moved to the right bank of the Congo River, to Brazzaville, with
Congo-Brazzaville President Denis Sassou Nguesso as facilitator.
A non-starter for stalwarts in Kabila camp, who are also frowning on
the new-found friendship between Sassou Nguesso and President Paul
Kagame.
UDPS leader and self-proclaimed president is right now abroad, in
South Africa, for what is rumored to be health reasons. But through
spokespersons, UDPS has set impossible prerequisites for its
participation, including the acknowledgement by Kabila that he didn't
win the November 2011 presidential election.
Then came the signing in Addis of the Framework, which many feel here
that it has short-changed the Congolese.
"Why doesn't the Framework single out Rwanda and Uganda namely as the
aggressors of the DRC?" is a mantra one hears in the streets or in
particularly heated exchanges in political TV shows.
Then there is the "issue," according to some, or the "insult,"
according to others, of the statement, strewn with falsehoods and
outright lies, made by Kagame prior to his signing the Framework.
Kinois are at a loss to understand why Kabila didn't just walk out of
the room when Kagame--moniker "Dissembler-in-Chief"-- proffered these
two shocking lies:
1) "We are all here to pursue one objective: to see security,
stability and peace emerge in DRC and our region."
If this has been Kagame's objective all along, why has he created M23
to begin with? Why has he sent Rwandan troops in reinforcement to M23
back in November 2012 to seize the city of Goma?
This amounts to adding insult to injury, as it were.
2) "[T]he framework recognizes that a holistic approach that addresses
the multi-faceted root causes is the only way to end instability."
This remark is interpreted as the de facto concretization of the
much-dreaded "balkanization" of the DRC.
Are the M23 part of this "holistic approach" to end instability in
North Kivu Province? Though the government insists that M23 is a
"negative force" bound to be dismantled one way or the other, why are
Kampala talks with M23 still ongoing?
***
PHOTO: Paul Kagame Flickr Photo Stream.