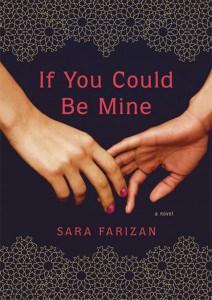 Young Adult author Sara Farizan adds a fresh and necessary story with her debut novel If You Could Be Mine. In Iran, female teenager Sahar has known from a young age that she wants to marry her best friend, Nasrin. But although her feelings are reciprocated, the two cannot marry because they are both girls. In their country, homosexuality is considered a crime, and death can be one of the many punishments. For a while, Sahar and Nasrin carry on their secret romance. And then Nasrin's parents reveal that they have plans for their daughter to be married to a successful doctor. The girls are devastated, and Sahar tries frantically to find a way to stop the wedding. She learns that, although homosexuality is abhorred in Iran, being transgender is viewed as a correctable mistake, and the government allows sex reassignment surgery. Sahar isn't transgender, but she wants to have a chance with Nasrin, so she seriously considers the surgery. She meets and befriends many transsexuals, some happy in their new bodies and some not. But she must ask herself if her decision is really the right path for her, and what kind of choices she should make.
If You Could Be Mine is a moving book, with complex characters and scenes; some wrenching, some beautiful. Sara Farizan provided an interesting glimpse of what it may be like to be gay or transsexual in Iran. There was an ever-present sense of fear and urgency that many homosexual Iranians must go through every day. There were a few things about the culture I hadn't known before reading this book, so that made it an even more interesting read.
Like Farizan's second novel Tell Me Again How A Crush Should Feel, this story has fascinating and memorable characters. Sahar is an interesting and conflicted protagonist. There were moments where I felt she was jumping into decisions too fast and naively, but given that she really had no prior experiences with homosexual and transsexual people, it was understandable. One of my favorite characters in If You Could Be Mine was Parveen, a male-to-female transsexual. She spoke seriously to Sahar about what changing her gender would entail, and if Sahar was doing it for the right reasons. She remained a supportive friend throughout the novel, and was open and honest about her experiences so she could help Sahar make the right decision. Parveen really deserves a novel of her own, she's so well-developed and intriguing.
Sahar's journey to be true to herself is emotional and thought-provoking. She must decide whether Nasrin would love her if she became a man, and if not, how to move on with her life. There were other subplots weaved with the main one: Sahar's father coping with the loss of his wife, her gay cousin Ali making some humorous appearances, and the motives of Nasrin's parents for their daughter's upcoming wedding.
If You Could Be Mine is not a light read; it deals with heavy subject matters. There are no easy answers to the character's predicaments. But the idea and plot are interesting additions to YA literature. This novel, especially with its amazing characters, will easily be remembered by readers.
This entry was posted in Lesbrary Reviews and tagged rachel, Sara Farizan, young adult. Bookmark the permalink.