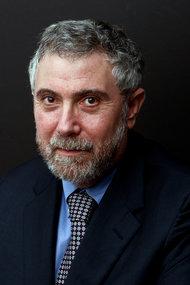 "America has a long tradition of imposing high taxes on big incomes and large fortunes, designed to limit the concentration of economic power as well as raising revenue. These days, however, suggestions that we revive that tradition face angry claims that taxing the rich is destructive and immoral — destructive because it discourages job creators from doing their thing, immoral because people have a right to keep what they earn.
But such claims rest crucially on myths about who the rich really are and how they make their money. Next time you hear someone declaiming about how cruel it is to persecute the rich, think about the hedge fund guys, and ask yourself if it would really be a terrible thing if they paid more in taxes."
-

Paul Krugman,
from his post today in 
The New York Times,
"

Now That's Rich"