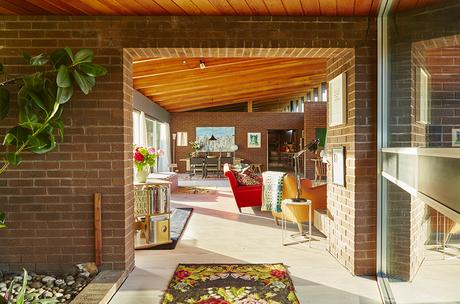 Sheridan Coakley, owner of the London-based furnishings purveyor SCP, uses his circa-1970s home as a testing ground for the furnishings he carries in his company's inventory. In the foreground, a Balzac lounge chair by Matthew Hilton is draped with a Donna Wilson blanket.
Project  Lawrence House Architect 
Hugh K. Harwood
"I'd always wanted a carport," Sheridan Coakley says as he pulls his Jeep into his automobile shelter, outside Lawrence House, his Hampshire home.
"It's a pretty masculine kind of a house," the founder of UK furniture retailer and manufacturer SCP says by way of introduction to the 1975 build. This is, it emerges, something of an understatement about the bungalow, which is an hour's train journey and a short countryside drive southwest of London. 
The collaboration between Les Haywood, an engineer who spent his spare time rebuilding Aston Martins, and Hugh K. Harwood, a local architect usually restricted to designing extensions, the home eschews the mock-Tudor or faux-Georgian vernacular of the surrounding countryside. Instead, Lawrence House is part ranch, part middle school, and part space-age bachelor pad. Its design is so aberrant to rural English tastes that the 7,500-square-foot single-story with floating roof sat unsold on its 25-acre site for two years, until Coakley and his wife stumbled across it nine years ago when looking for somewhere near to the preferred school for their children.
"The owner got so desperate that he had got planning permission to knock the house down and to build a two-story house," says Coakley. "Then we came along saying it was fantastic."
SCP is known for bringing on marquee designers such as Jasper Morrison, Konstantin Grcic, and Matthew Hilton, but Coakley has plenty of respect for the work of the two unknowns who designed his home. This even extends to retaining the grand piano–shaped bathroom console and the deep-pile beige carpet, which is only slightly thicker than the fur on Coakley's outsized French sheepdog, Bau.
"It's quite fun to leave something like that, but I don't feel I have a responsibility to keep it as a kitsch feature," he says, noting that he did choose to remove certain past-their-prime features, like a circular bathtub complete with built-in telephone point. 
Coakley also has his eye on tearing down the 1990s addition to the rear of the house. This Victorian-style structure, all dark wood and brass, was made to house an indoor pool as a sop to the then-owner's wife, who wanted something in the home that did not scream Magnum, P.I. Fortunately, Coakley's own wife, Louise Jenkins, is a huge fan of the home's design, from the original tiled Poggenpohl kitchen to the stables and solid outbuildings that surround the main body of what is essentially a three-bedroom with add-ons.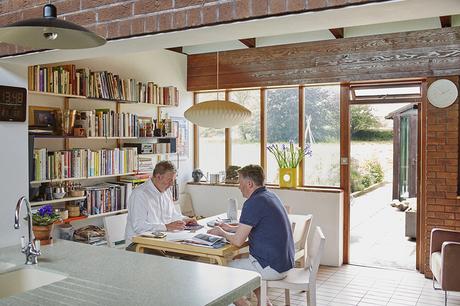 In the eat-in portion of the kitchen, a George Nelson Bubble Lamp hangs above an Artek table and chairs by Alvar Aalto. 
"That kitchen's pretty astonishing really, considering it's 40 years old," says Jenkins. "It's a kind of balancing act of keeping the old stuff going and then knowing which bits to replace." She met Coakley via her stepfather's antiquarian book business, but since the move to the countryside she has been more concerned with developing her asparagus patch than hunting out first editions. One wall in the kitchen is taken up with her vast cookbook collection, which sits upon thoroughly modern Michael Marriott shelving. 
A reason that the home may have stayed on the market so long is its layout. The bedrooms are small and functional, especially what would have been the two guest rooms. The well-off of rural England generally want sprawling rooms that match the expanses of the landscape beyond the windows. Instead, this home looks like modern city living, with a vast loft-style living area that serves as a showcase for Coakley's abilities as tastemaker. 
The walls are covered with pieces by artists SCP has worked with including playful screen prints by Brooklynite Mark McGinnis, but there are also pieces by the couple's 27-year-old son, Oscar, as well as an old Bazooka Joe box—a reminder of the fact that Coakley's father once looked after the brand's UK franchise. A battered leather sofa from the previous owner takes up one side of the room, but the rest is largely filled with prototypes, unsold orphans, and favorites from SCP's store in Shoreditch, East London, including plenty of Matthew Hilton's Balzac seating. 
Shoreditch was once the center of London's furniture manufacturing business and boasts the Geffrye Museum to celebrate this fact, complete with SCP furniture on display inside. Today, one is more likely to find craft bakeries and bearded baristas in the area. It's a far cry from 1985, when Coakley moved his small vintage furniture and upholstery business into the area from the then-more fashionable Portobello Road. 
"I would get a lot of classic tubular steel furniture re-chromed because, you know, you wouldn't want a rusty chair," Coakley recalls. "Nowadays, of course you would. The only chrome plater I could find was in Shoreditch." 
In 1985, an early Philippe Starck show in the SCP store established Coakley's business as a go-to for fans of modern design. The business's aspirations grew with the area around it, as the authorities gave way to pioneers such as Coakley and opened up zoning to retail and restaurants. Before long, SCP was a globally renowned brand with its own UK upholstery factory, turning out Balzac sofas and Donna Wilson chairs. It is now introducing contemporary America design to Europe, including the work of Brooklyn-based furniture and product designers Fort Standard. 
"American design is really interesting, and I think it will become quite dominant eventually," Coakley says, reflecting on the future of the industry he has championed for the past 30 years. "Italy is still the center, but it's really spun out, lost its way." 
But Coakley has proven again and again that he's not afraid to take a chance on an underdog. He arrived just in time to rescue a house that some may say had lost its way. Sure, the Austin Powers-esque bar has gone, but the spirit remains. Not many homes can boast an eccentric masculinity as their muse, but Lawrence House is certainly all the more interesting for it.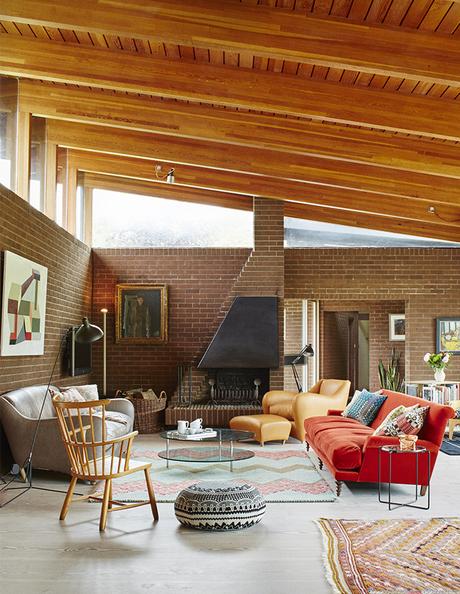 In the open-plan living and dining room, a dramatically sloped roofline allows for generous clerestory windows.