One of my favorite projects is to add quilling to a framed wedding invitation. The very reason I learned to quill is because I wanted to give one as a gift after being introduced to paper filigree via a magazine article. I've completed quite a few since then... this is a commissioned gift for a couple in Texas.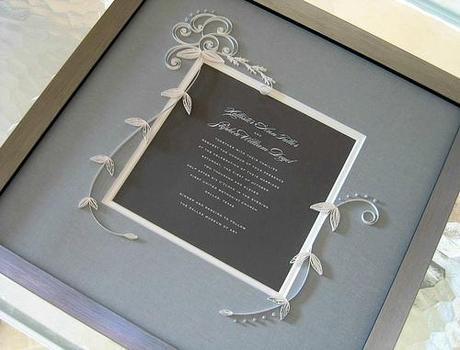 The understated charcoal invitation by Vera Wang featured raised white lettering. It called for a modern design, so I created a double scroll floral and leaf motif in white with touches of silver-edged white.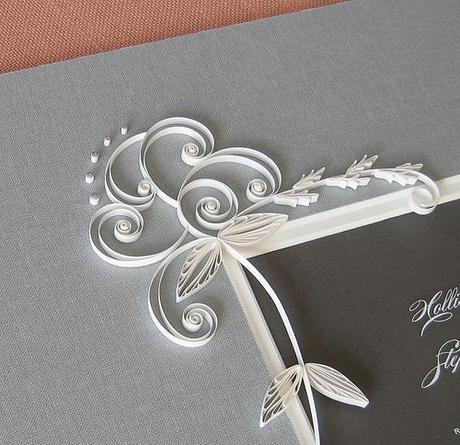 Gray fabric-like paper lined the invitation's inner envelope, and the client rightly suggested the mat board have a similar look. Luckily my local frame shop stocked one that was perfect.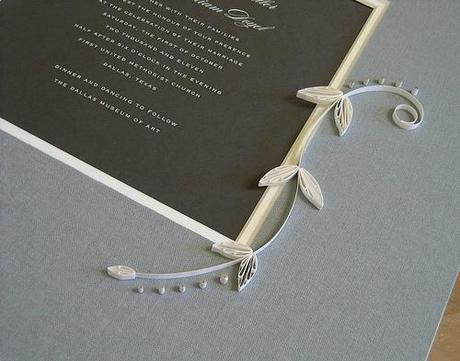 When quilling and framing an invitation, it's best to use acid-free quilling paper and glue. Choose the highest quality materials available so the piece will look its best for many years... an archival mat and conservation or museum glass to protect the colors from fading.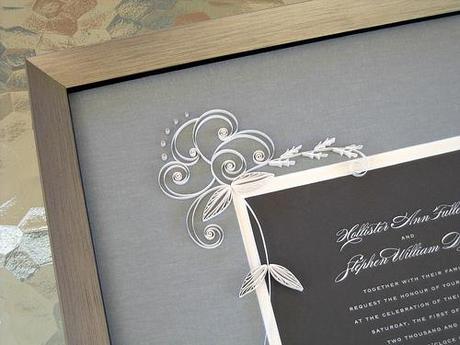 A framer can advise on the proper depth and use of spacers as the glass shouldn't press against the quilling. Keep in mind that any art piece is best hung in a location that doesn't receive direct sunlight.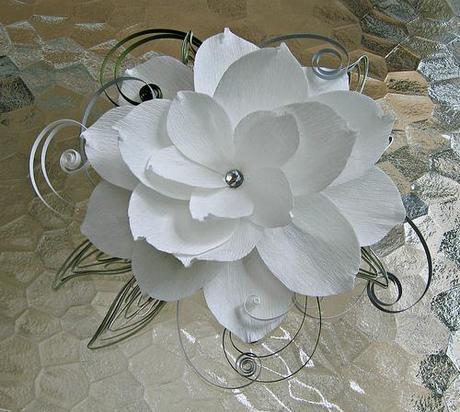 Another wedding item I completed recently is this doublette crepe paper hair accessory made by Jenny Jafek Jones of
The Crimson Poppy
(you may have already seen it on Facebook). Quilled scrolls and leaves in green, silver, and white surrounded the flower. The bride lives in Hawaii... considering that location has more than its fair share of beautiful flowers, Jenny and I were delighted she considered wearing one of our paper blooms on her wedding day.