Just a quick post today to share photos of quilled paper jewelry projects that my internet friends have made from The Art of Quilling Paper Jewelry. Seeing their work is such a great reminder that putting one's own creative spin on a design can lead to pretty terrific results. I love that each quiller used the book's projects as a springboard for making jewelry in their personal style.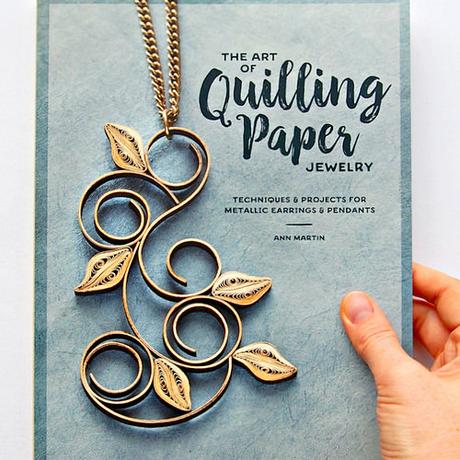 Кasia Wojtasik in Poland and I met via Instagram where she is @art_life_kasia. Kate's specialty is lushly quilled floral pieces, so I was extra pleased that she stepped outside her comfort zone to make a jewelry piece. Kate didn't have metallic-edge paper on hand, so used white quilling paper to create an elegant Swirled Scrolls Pendant. The effect is just as pretty as the silver and gold-edge ivory paper as seen in the book. Kate blogs at Art Life.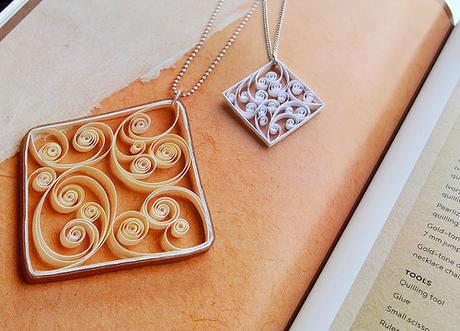 Licia Politis, who often shares her paper jewelry projects on Instagram, completely transformed the minimalist Lotus Blossom Pendant to reflect her colorful style. Here's my gold and silver edge version from the book, below. It's quite subdued compared to Licia's fun, large-scale work, as seen in the following three photos.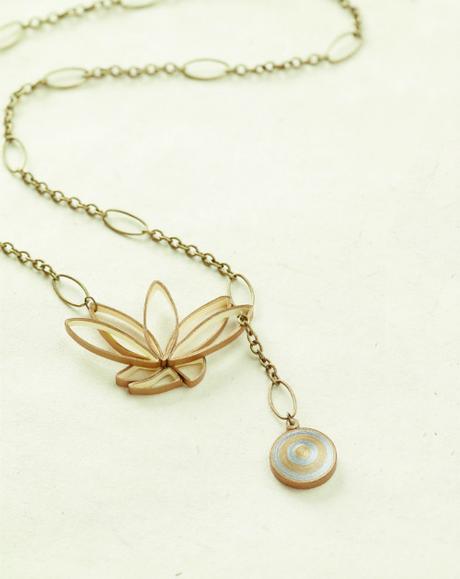 I love the way she added extra discs and transformed the orientation of the design so the lotus is horizontal instead of hanging as an angled lariat. You might recall Licia's quilling from past posts (for example - paper jewelry, bird cage, and ombré layer cake). She enjoys using a bandaging technique as she did here, wrapping each lotus petal on the diagonal.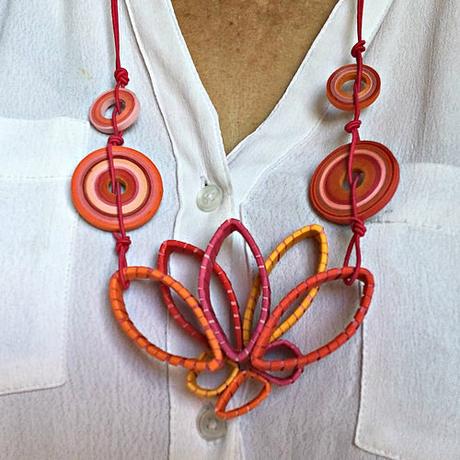 Another version in shades of blue. The paper twine Licia uses is from PaperPhine.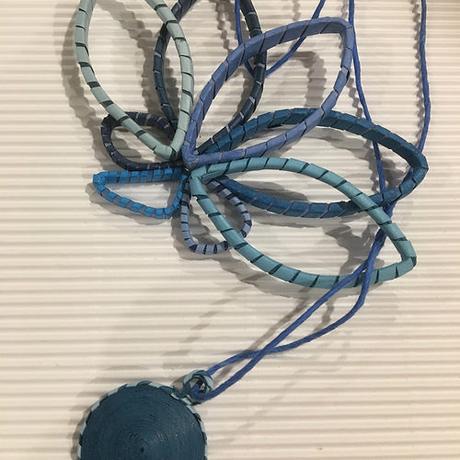 And a glam statement lariat in purple with gilded accents and metallic rick rack.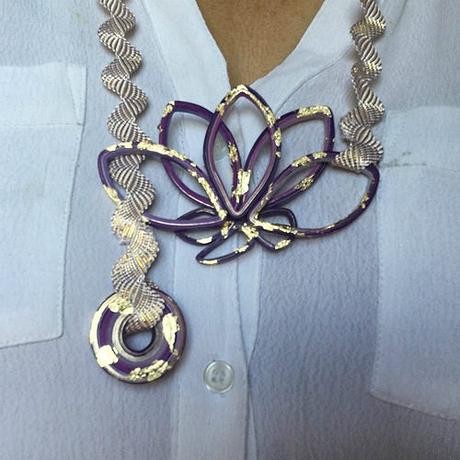 Lastly, you might recall from a previous post that Pily Núñez (Crea Quilling on Facebook and Instagram) did a lovely job making the Art Deco Earrings despite not having access to metallic-edge quilling paper in Chile. Pily devised her own method of applying silver foil to the earrings after she completed the quilling and shared her process on her blog, Quilling Chile.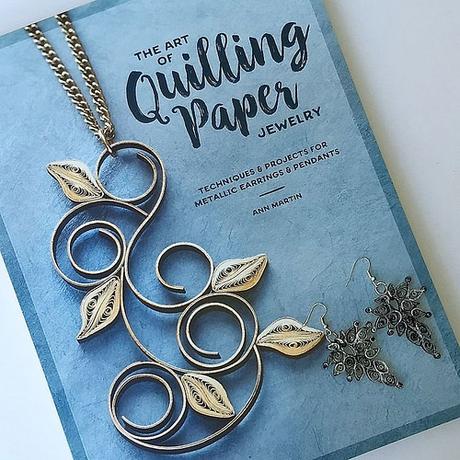 If you make projects from The Art of Quilling Paper Jewelry, I would love to see them! Email your photos to me at ann.b.martin@gmail.com or via the All Things Paper Facebook page. Learn more about the book here.
And above all, have a very happy holiday season!