June already! Father's Day is on the horizon. Perhaps your dad is a cool dude... well, so are most cats, or at least they give the impression they think they are! This quilled fellow, inspired by a rubber stamp I saw ages ago, is no exception.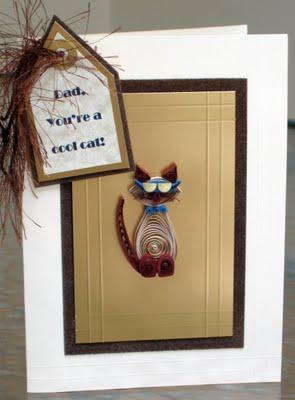 Dare I say the glowing, foxy sunglasses give him a bit of personality? Golden metallic paper and trimmed down punchees from a standard hole puncher do the deed.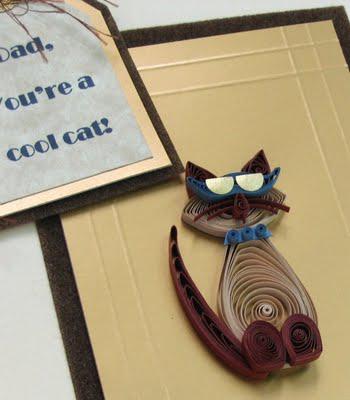 (Wait... cats don't have bellybuttons.)
Russet brown eyelash yarn as the tag tie does a pretty convincing job of conveying the idea of fur - at least the kind that stands on end.... HISS!! Same goes for the soft and fuzzy suede background paper.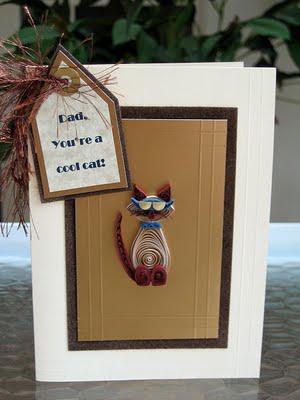 I used the score blade on my paper cutter to make embossed border lines on both the gold paper and cream card... quick to do, kind of manly, and I like the way they frame the cat.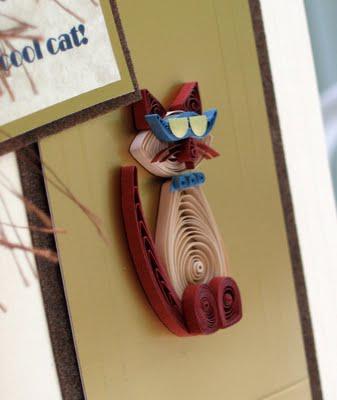 All of the supplies used to make this card are from Custom Quilling, which is an affiliate link.