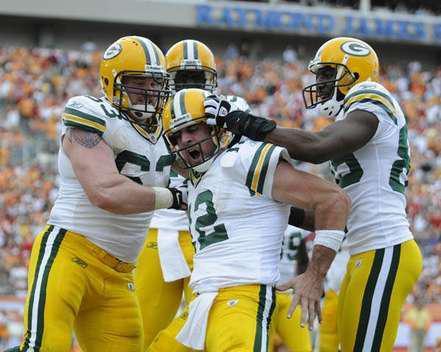 Photo: sportsbookveteran.com
- Adam Parker
The Green Bay Packers currently sit atop the NFL standings at (13-0) on the season and are well on their way towards attaining perfection in the form of a undefeated season.
There are still the playoffs ahead, but for now, let's take it, as every player in Green Bay's locker room says their doing, one game at a time.
Looking at what the Packers have accomplished so far, it's been nothing short of spectacular.
One of the most impressive things about this run has been that Green Bay has basically cruised past (or blown out) every team they've faced without a significant contribution in the running game. If you didn't believe the NFL was a passing league before, it's hard not to now, especially with the Packers being undefeated despite their 26th-ranked rushing offense.
In today's NFL, running the ball doesn't seem as remotely important when you have a stud at the quarterback position, which Green Bay clearly does.
Aaron Rodgers has all but locked up the MVP trophy with his stellar play and leadership this season, and he's the main reason the Packers are at where they are now.
The only team that has even come close enough to sniffing a win over the Pack Attack was the Giants a few weeks back.
They did so by pounding the ground and chewing up clock with Brandon Jacobs and Ahmad Bradshaw. They kept Rodgers on the sideline, which apparently is the only foolproof way to stop this Packers' offensive juggernaut.
But enough of how Green Bay got here, let's look forward to their final three stepping stones, I mean, opponents, on their way to an undefeated season.
Week 15: Packers (13-0)  at Chiefs (5-8)
Before the season started, I would've expected this to be one of the late season marquee matchups. Now, with all the injuries suffered by key Chiefs players coupled with Todd Haley being ousted as the head coach in KC, I feel like the Packers will cruise threw Arrowhead stadium with an easy victory. Kansas City's defense isn't terrible, but no team has really had much success this season stopping the Packers' aerial assault, and there's
no way
 the Chiefs can outscore the Pack Attack with their abysmal offense. The outcome of this one will send the usually loud and rambunctious Arrowhead faithful home whimpering with their tails between their legs.
Packers destroy the Chiefs, 34-10, and move to (14-0)
Week 16: Bears (7-6) at Packers (14-0 after Week 15)
This game falls on Dec. 25, and it's looking like it will be a VERY Merry Christmas for the Packers. Rodgers and Co. have been good all year long, and Santa has rewarded them with a Jay Cutler-less Bears team being led by Caleb Hanie into early hibernation. The Bears will fight valiantly against their bitter division rival, but with Hanie likely to make multiple mistakes, I look for the Packers to bury the Bears under the biggest, coldest, snow pile in Lambeau.
Packers win, 28-13.
Week 17: Lions (8-5) at Packers (15-0 after Week 16)
This is the season finale for these two teams, and before their first matchup earlier in the season, which Green Bay won comfortably 27-15, I thought the Lions were one of the few teams who could cause problems for Rodgers and the Packers. The Lions' secondary has no chance to stay with Green Bay's receiving corps, even if they're still without the injured Greg Jennings. Rodgers is going to carve them up, and  the Packers will be breaking in the new year with a win, thereby finishing undefeated in the regular season.
Packers win, 28-14.
As you can see, I have the Packers finishing (16-0) in the regular season, which means they'll have a perfect record heading into their playoff run. The scary thing is, with Rodgers likely locking up the MVP trophy because of his regular season numbers, he only gets better in the playoffs, which should, at the very least, translate to a Super Bowl berth for the Packers.
Now the only question that remains, what will happen once they get there?
Like me and the undefeated 1972 Dolphins, I'm sure you're looking forward to finding out.
Be sure to follow Beard And Stache on Twitter 
@BeardAndStache
, 
and also Adam 
@Adam_Parker43
, Like our Facebook page 
HERE
!