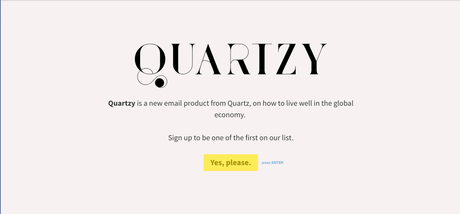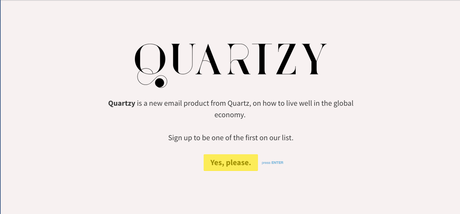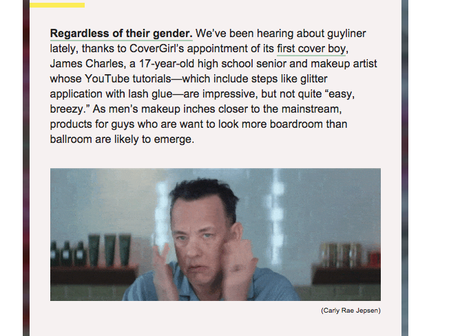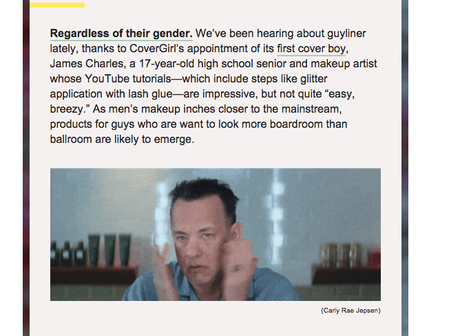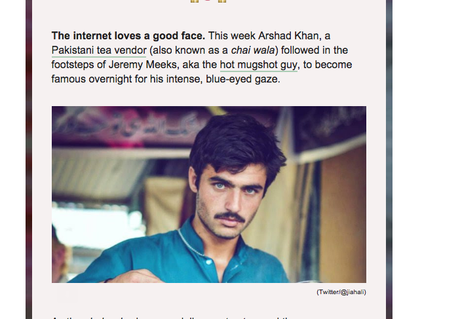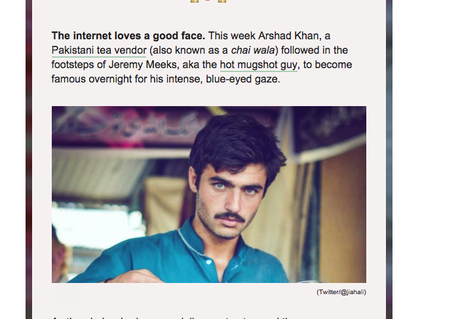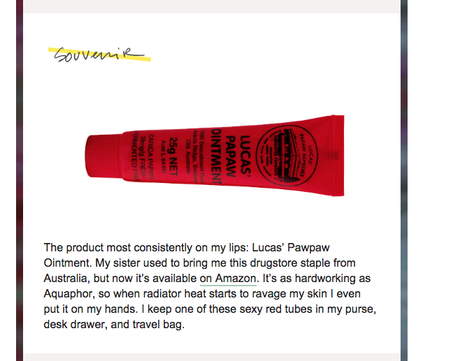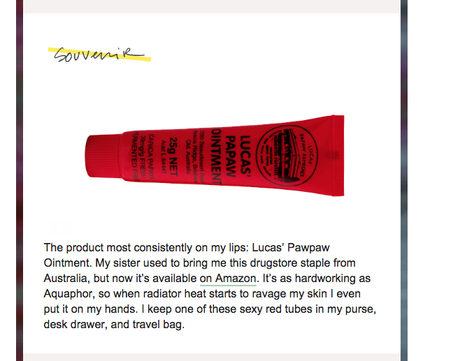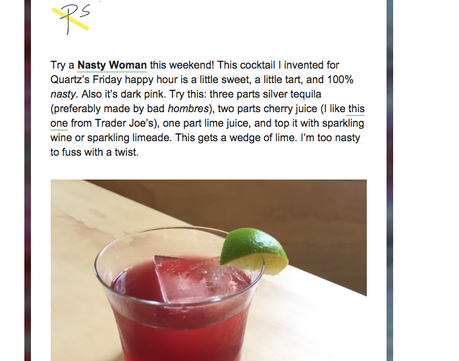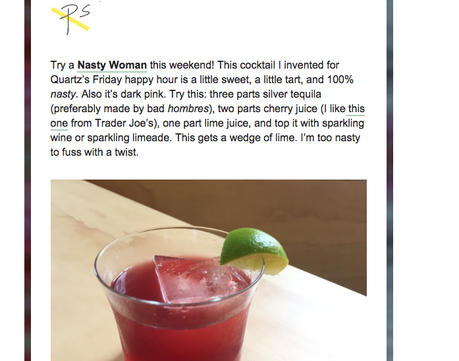 The first edition of Quartzy is here, and it promises to become part of my weekend briefing rituals.

The newsy Quartz Daily Brief has already gotten used to the best and most seducing headlines. So, imagine the same style applied to lifestyle content.  What I like about Quartzy is that it captures moments with stories that we do not need, but that bump into and find interesting.

In this inaugural edition of the weekly lifestyle newsletter, which Quartz describes as a companion to the Daily Brief, 
the editor presents the new product as an approach to lifestyle but "....about more than just how we spend our money; it's about how we spend our time and energy. Each Friday, Quartz's Jenni Avins explores topics that range from pop culture and politics to parenting, food, fashion, and travel.  "

Among the offerings in this first issue:
-- Issa Rae's , of the  HBO series, Insecure, puts on make up and that becomes a theme of the main pieces of this newsletter, as it then goes into cosmetics and their use regardless of gender.

"We've been hearing about guyliner lately, thanks to CoverGirl's appointment of its first cover boy, James Charles, a 17-year-old high school senior and makeup artist whose YouTube tutorials—which include steps like glitter application with lash glue—are impressive, but not quite "easy, breezy." As men's makeup inches closer to the mainstream, products for guys who are want to look more boardroom than ballroom are likely to emerge."
 
-Then tips for men who wish to conceal under eye circles or blemishes.
As the newsletter moves into what to drink this weekend, I get a chuckle from a drink called Nasty Woman, invented by the Quartzy editor, Jenni Avins
Try a Nasty Woman this weekend! This cocktail I invented for Quartz's Friday happy hour is a little sweet, a little tart, and 100%nasty. Also it's dark pink. Try this: three parts silver tequila (preferably made by bad hombres), two parts cherry juice (I like this one from Trader Joe's), one part lime juice, and top it with sparkling wine or sparkling limeade. This gets a wedge of lime. I'm too nasty to fuss with a twist.
 
I like Quartzy. It is a breezy read that captures ephemeral moments of stories that we are not looking for, but which sit well with a lean back weekend audience.
Best part, nothing about the news of the week or anything that may cause anxiety.

Make that Nasty Woman drink and enjoy this new Quartz creation.
TheMarioBlog post #2513
Please enable JavaScript to view the
comments powered by Disqus.
comments powered by

Disqus