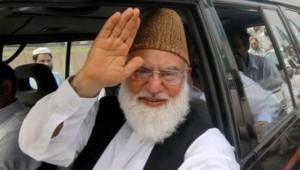 Qazi Hussain Ahmed escapes bomb attack in Mohmand Agency
Qazi Hussain Ahmed, the former Ameer of Jamaat-i-Islami, on Monday narrowly escaped a bomb attack as a woman bomber blew herself up near his convey in northwest Mohmand Agency.
The Qazi Hussain remained safe in the explosion but three person including his body-guard sustained minor injuries. A vehicle was partially damaged in result of the blast.
Shamsur Rehman Khan, a government administrator in Mohmand, said suicide bomber, who was dressed up in a burqa and had explosives banded to her body, detonated her explosives soon after Qazi Hussain's convoy passed through the Ghaiba Khwar area in the Haleemzai tehsil.
The former JI chief was heading to Mian Mandi area in of Mohamand Agency to address party activists and administer the oath from the new inductees of the to country's largest religio-political party.
No group has claimed the responsibility of the attack so far.
74-year-old Qazi Hussain was the third Ameer of Jamaat-i-Islami from 1987 to 2009. He was succeeded by Syed Munawar Hasan.