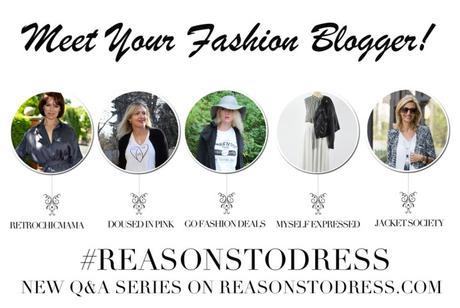 A few months ago I reached out to some of my favorite fashion bloggers on the internet and asked them a few questions about their style, their best finds and their blogs!
If you've been following along with my weekly DRESS TO IMPRESS Fashion Blogger linkup you have met most of them as co-hosts, and now here's your chance to really get to know them. This week I present you Michelle from RETROCHICMAMA, one of the fastest growing 40+ fashion bloggers in the UK!
There is no co-host for this week's linkup but I sincerely invite you to visit Michelle's blog and say hello! Part of this new series will be giving more space on my blog to the women that are inspiring me, so here is the first installment!
FEATURED IN THE RTD MAGAZINE!
I should also apologize, the RTD Magazine is so much bigger and better this issue, and I've had a lot of interest from sponsors, to publish content which also means I am LATE in getting it out!!
The Magazine will most likely become a quarterly magazine and will be connected with my new travel blog! It is packed full of content and will also features some fabulous articles contributed from bloggers from the "MEET YOUR BLOGGER" series. Keep your eyes open for Michelle's tips on how to buy a *real* Vintage Chanel bag and don't forget to sign up for the magazine!!
Visit her blog and follow along, you will love her, RETROCHICMAMA - Retro Design Chic Style Always Mama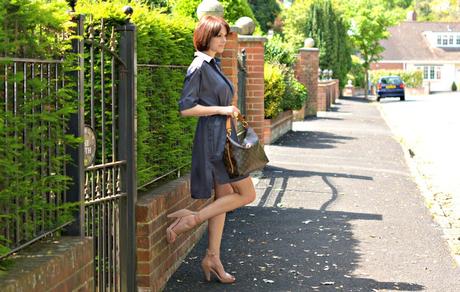 THE Q & A with RETROCHICMAMA
Allow me to introduce you to Michelle:
I started my working life at 16 as a hairdresser, since then I've owned a salon, added "Make up Artist" to my skills & worked in TV, Film & Editorial for many years. At the ripe old age of 37 I married & soon after had my first baby. Baby number 2 came at 40 & number 3 at 42.

With 3 young children working in the entertainment industry wasn't an option so that's what led me to blogging. My blog is my creative outlet & the technical side of it keeps my brain active - we all know how babies mush our brains! My goal is to make RCM a thriving business because I ABSOLUTELY LOVE IT!

Everyone should have a job they love.
1) How would you describe your personal style?
My every day personal style is a version of 1970's fashion, hence the "Retro" in my blog name. However when I dress up I prefer a more elegant chic - hence the "Chic" in my blog name.

Although I am also partial to playing the "hot Mama" so there's a lot of leather in my wardrobe for those days when only sexy will do!
2) What are the trends that you are currently coveting? Do you think you'll love them next year?
I don't follow trends as such, I get hooked on an idea then hunt it down or alter a piece from my existing wardrobe. For example when I wanted to be able to see more of my snake skin ankle boots underneath my jeans, I cut the hem of a pair of my old J Brand boot legs. Threw them in the wash so the high hem would fray & hey presto! It's the frayed edge ankle freezers look from the 90's back again!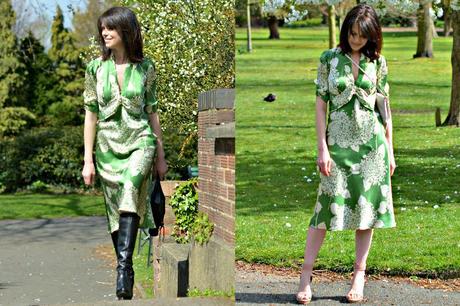 3) Who is your favorite Italian brand/designer? Do you own any of their designs
That's easy - Miuccia PRADA of course! Yes I have some bags & shoes. This deerskin bag is my favourite right now. When I visit Florence I always check out Space the outlet, I call it my Mecca.
4) What are your top three tips for looking "put together" in a hurry?
Looking "put together" in a hurry is par for the course when you have 3 young children. As a singleton I'd make "getting ready" to go out an event! Hahaha those days are well & truly over, it's the quicker the better now so my make up is always the same except for a lip colour change.

My simplest outfit would involve wearin all of one colour. Whether thats all grey, all navy, all mauve or all black doesn't matter. Keeping it streamlined = keeping it chic & simple.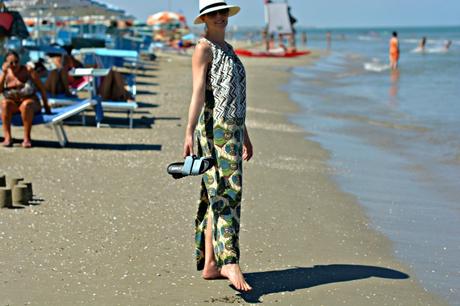 5) Tell me about one item that you bought this year that you just can't live without?
OMG This year I finally bought my first pair of Gianvito Rossi shoes! Trouble is , now I want another pair!
6) Tell me about the perfect occasion or reason to dress in your opinion and what you would wear!
Having been to a few awards ceremonies I know they can be quite boring drawn out affairs however the "after" parties are fabulous! I'd love to wear a vintage Dior gown to the Vanity Fair Oscars after party.