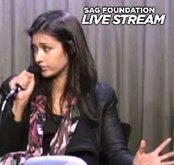 Last night, True Blood's Janina Gavankar shared her tips regarding how young Hollywood is using and can best use social media and about her role of Luna on True Blood for the SAG Foundation. The event was streamed LIVE last night in Los Angeles and moderated by Zino Macaluso.
Janina plays a shape-shifter, which pretty much describes Janina in her real life. In addition to her starring roles in three series, the three-quarters Indian, one-quarter Dutch beauty has appeared in Stargate Atlantis, Grey's Anatomy, The Cleaner, Dollhouse, NCIS and Three Rivers.
But there's also Janina the Geek, who not only writes program code for friends, but who was also the first celebrity to sign up with Twitter and who is so technologically creative that she is regularly asked to be on panels at conferences educating the entertainment industry on the practical application of multiple new digital platforms. Follow her on twitter @Janina.
Watch Janina Gavankar on the SAG Foundation's video below:
source: sagfoundation.org