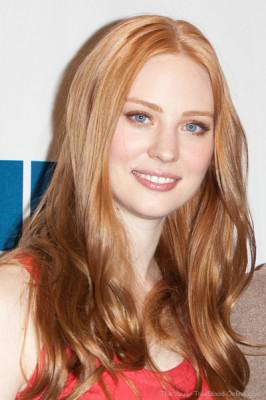 photo source: Wireimage.com
True Blood's Deborah Ann Woll hails from Brooklyn but currently lives in Los Angeles, where she recently completed filming on "Someday This Pain Will Be Useful To You," a coming-of-age story based on a teenage novel of the same name by Peter Cameron. The Moment recently e-mailed Deborah and ask her some questions, which are below:
Q. The East or West Coast?
A. I grew up in Park Slope, Brooklyn. I think I prefer the East Coast. I'm a pedestrian at heart.
Q. How did you prepare for your role on "True Blood"?
A. I got very interested in the science behind this creature. This vampire. I knew they were basing the teeth off of reptiles, namely snakes, instead of canines as they have been portrayed previously. That gave me an idea and I started to research reptiles. I don't think our vampires are truly cold. I think we are cold blooded like snakes. We are the temperature of our surroundings and can be warmed by contact with warm objects. A hot rock, warm water, a warm-blooded body. Doesn't that make a human lover seem extra enticing! We simply feel cool to the touch because humans are 98.6 degrees and we would be less. I also think we breathe, in order to talk and feel, but we don't need oxygen so we would not be out of breath from exercise. In my research of snakes I even saw an answer for eternal youth. They shed their skins and therefore appear almost ageless their whole lives. I think vampires could do the same thing more subtly. Its fun for me to see what all this inspires in me for the character.
Q. What we can expect from Jessica Hamby in Season 4 of "True Blood"?
A. More turmoil between her human and her vampire side. Her dark and her light and what that means for her relationships. With her maker, with her lover, with her friends…
Q. Tell me a little bit about your role in "Someday This Pain Will Be Useful to You."
A. In "Someday" I play a college student grappling with her identity — primarily in relationship with her family. She's very confused and makes some mistakes along the way but, don't we all?
Q. Do you prefer film or television?
A. No preference as of yet. Besides, "It's not TV, it's HBO."
Q. What do you do when you are not working?
A. I like carpentry and home improvement. I really enjoy genre entertainment. I am also involved in The Choroideremia (CHM) Research Foundation. My boyfriend suffers from CHM, a degenerative eye disease. Essentially, he is going blind, as are the other male members of his family that are affected. I am merely an advocate for the foundation hoping to raise awareness and funds for a treatment or cure, of which there is none at this time. You can read up on it at www.curechm.org.
source: tmagazine.blogs.nytimes.com