Aloe vera is one of the most calming ingredients we can think of when it comes to skincare. Over centuries, the benefits of Aloe vera have been revealed to be manifold. Its medicinal properties have been proven time and again, not only through Naturopathy but also in mainstream medicinal uses. 
In more recent times, the goodness of aloe vera has become one of the mainstays of skin care products that stand out for their high quality and effectiveness.  Aloe vera gel and its extracts are being used in skincare by themselves and also as accompaniments to other ingredients to improve the performance of the latter. 
Although we are familiar with gels, creams and lotions made from Aloe vera, I have recently been quite obsessed with another form of Aloe vera, a wonderfully easy-to-use-mist! Brought to the market by pyoura – the makers of skincare products based only on natural ingredients, today I am going to share with you my experiences with their never-before-in-the-market offering, Aloe vera Face Mist.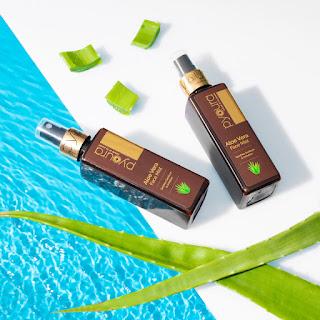 But first, let's quickly recap the skincare benefits of Aloe vera:
1. Supports production of collagen2. Helps in soothing and calming3. Can heal sunburn4. Moisturizes skin5. Has antioxidant properties
The many ways I add Aloe vera to my skincare routine: 
Given these tested and proven benefits, I am going to share the many different ways I have been using Aloe vera in my skincare routine.  And ever since I got the mist, I was excited about using Aloe vera this way as all I had to do was just spray on my face and then dab with a soft cotton swab.  That's it!  Here's the where-and-how.
1.
For Skin Brightening
:Aloe vera is a mild form of an exfoliator with healing, hydrating and soothing properties. To get a bright and spotless skin, I find the ideal way to use Aloe vera is to apply it after cleansing, following up with a product containing Niacinamide.
2.
For Skin Glow:
It is often said that you cannot use an exfoliating product with Ascorbic acid. However, as Aloe vera is very mild, this combination can be great for radiant and glowing skin. It is also recommended to apply Aloe vera after cleansing the skin, followed by a product with Vitamin C. It is particularly advisable that you use sunscreen as the last step in your skincare. 
3.
For Supple & Moisturized skin:
Pairing Aloe vera with Hyaluronic acid can give the skin plumpness, softness and moisture. This is a fantastic way for dry and dehydrated skin to get maximum hydration. Here again, Aloe vera first, the rest next.
4.
For Anti-aging: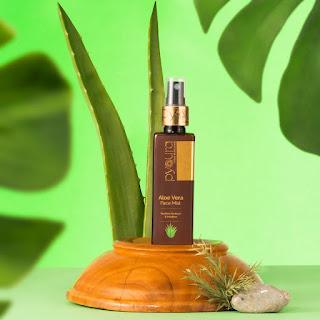 Aloe vera can be used as an exfoliating step before applying the retinoid serum or cream.  It works equally well with retinoid substitutes like Bakuchiol and Phyto-Retinol. In both forms, it is best to do this at night to allow for the power of retinoid to play out. (
A patch test is highly recommended before trying out Aloe vera and retinoid in the same skincare routine. Retinoid is very potent and can be aggressive to skin conditions when paired with an exfoliant
).
No matter what we pair Aloe vera with, it is best to use it as an exfoliating step for best results. 
All about my new love: pyoura Aloe Vera Face Mist
With such a significant yet diverse place for it, it was important to me that my Aloe vera source was pure and easy-to-use.  pyoura Aloe vera Face Mist won my confidence, being obtained through a unique process of extracting the best from Aloe vera leaves in which no preservatives, artificial fragrance, colour, or chemical are added to the extract.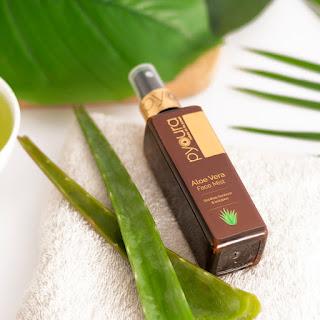 Benefits that I have noticed:

1. Personally, it worked the best for my pores and has given the best results when paired with Niacinamide.
2. It has helped to smoothen my skin's texture that was facing rashes and purging due to other skincare products and wearing masks.
3. It has helped to lighten my blemish marks
4. I like to layer my skincare products to get maximum results. The ideal way to layer skincare products is to give a gap of 60 secs between every step to let the product sink in. Aloe vera gel takes a long time to get absorbed into the skin, while pyoura Aloe Vera Face Mist gets absorbed quickly and does not leave the skin feeling greasy or tacky.
That's a lot going for this exciting new offering from pyoura!
My reasons for preferring pyoura Aloe Vera Face Mist over a gel:
 Before I sign, here's a quick recap why pyoura Aloe vera Face Mist works for me. 
1.Gets absorbed in the skin quickly 
2.Very convenient spray bottle packaging
3.It is a quick process in skincare, unlike the aloe vera gel.
4.No greasy and tacky feel on the skin
5.No added artificial colour, alcohol, preservatives or parabens
6.Fragrance-free, save for that subtle, natural hint of fresh Aloe vera leaves
To top it all, pyoura makes shopping for this mist an enjoyable experience laced with exciting surprises ranging from attractive packaging, samples of other mists, cotton swabs and more!
And it doesn't end there!  Besides their own
website
they are easily available on E-commerce sites too.  With attractive offers and FREE shipping ALWAYS!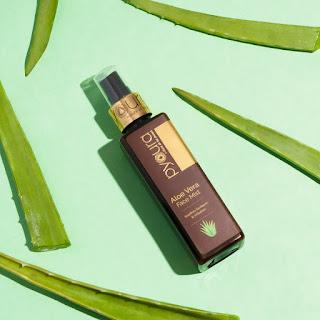 So this is why I have been glued to pyoura Aloe Vera Face Mist for a month and will be ordering my next bottle soon. Would you like to get yours too? You can book yours on their website at
www.pyoura.com